The dock is not a destination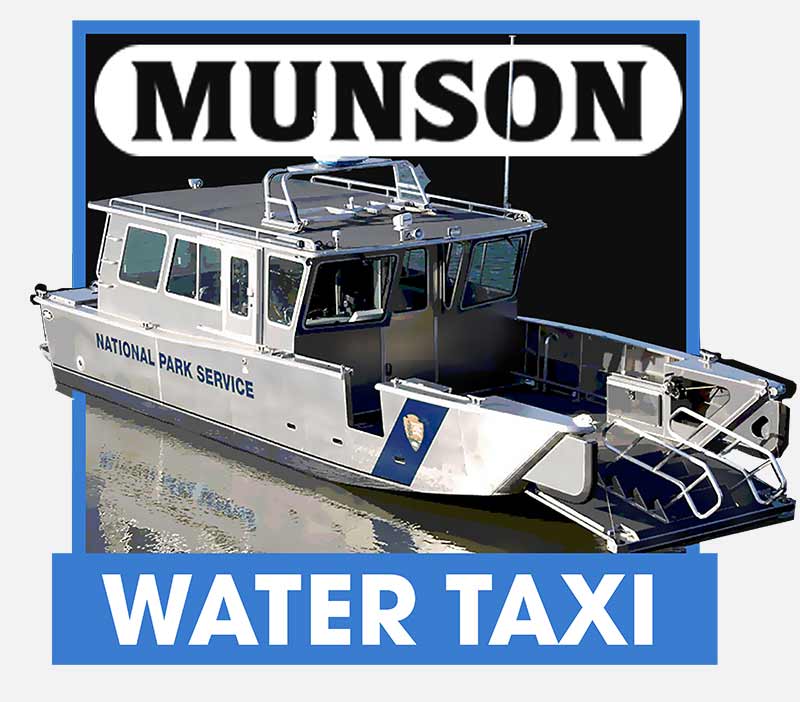 Water Taxis are the unheralded workhorses of marine transportation. They are expected to perform reliably in all types of weather by providing safe, comfortable transport for passengers and crew. They must stand up to the rigors of performing these duties day after day without fail. At Munson Boats, we are continuously improving our water taxi models – making them more comfortable, quiet and environmentally friendly.
Like all of our boats, the hulls of our passenger vessels are made from a minimum of 1/4 inch aluminum plate with double-thick reinforced keel sections for beach landings. The large bow door and optional side-doors enable easy boarding from dock, pier or beach, and a large list of cabins and seating options are available to ensure that your water taxi is right for the job.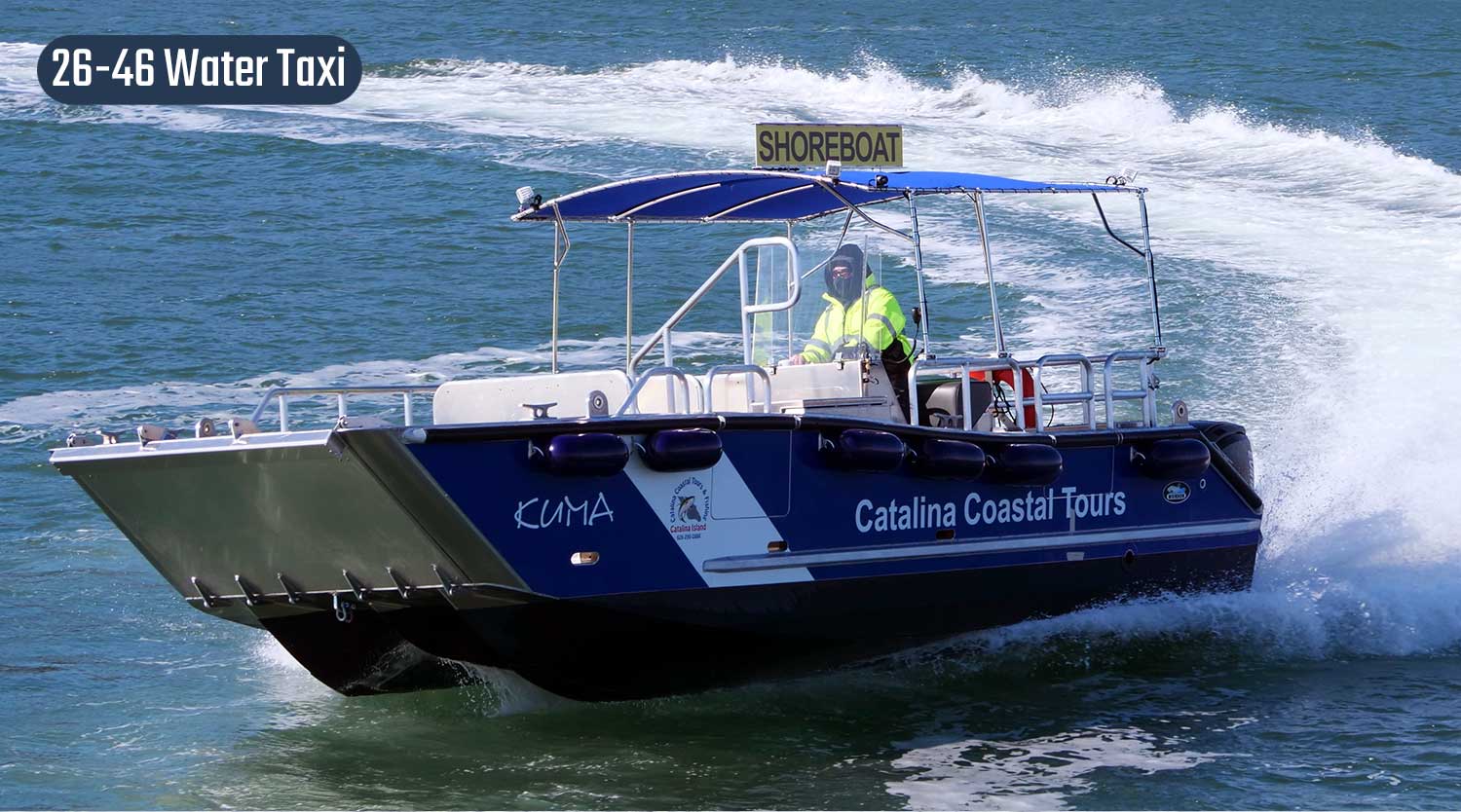 Model: 26-46 Water Taxi
Avalon, CA: Catalina Coastal Tours transports over 180,000 passengers each year to Catalina Island. Their 26' Munson is USCG certified for 12 passengers. Outfitting includes forward and aft side boarding doors, boarding stairs, bimini top, lifting eyes and fendering system for boat-to-boat transfers. Passenger seat lockers can be easily removed to transport bulk cargo when required.
Hull Length:
26 ft (7.9 m)
Power:
Evinrude 150 hp x 2
Propulsion:
Outboard (25" shaft)
Speed:
42 mph, light ship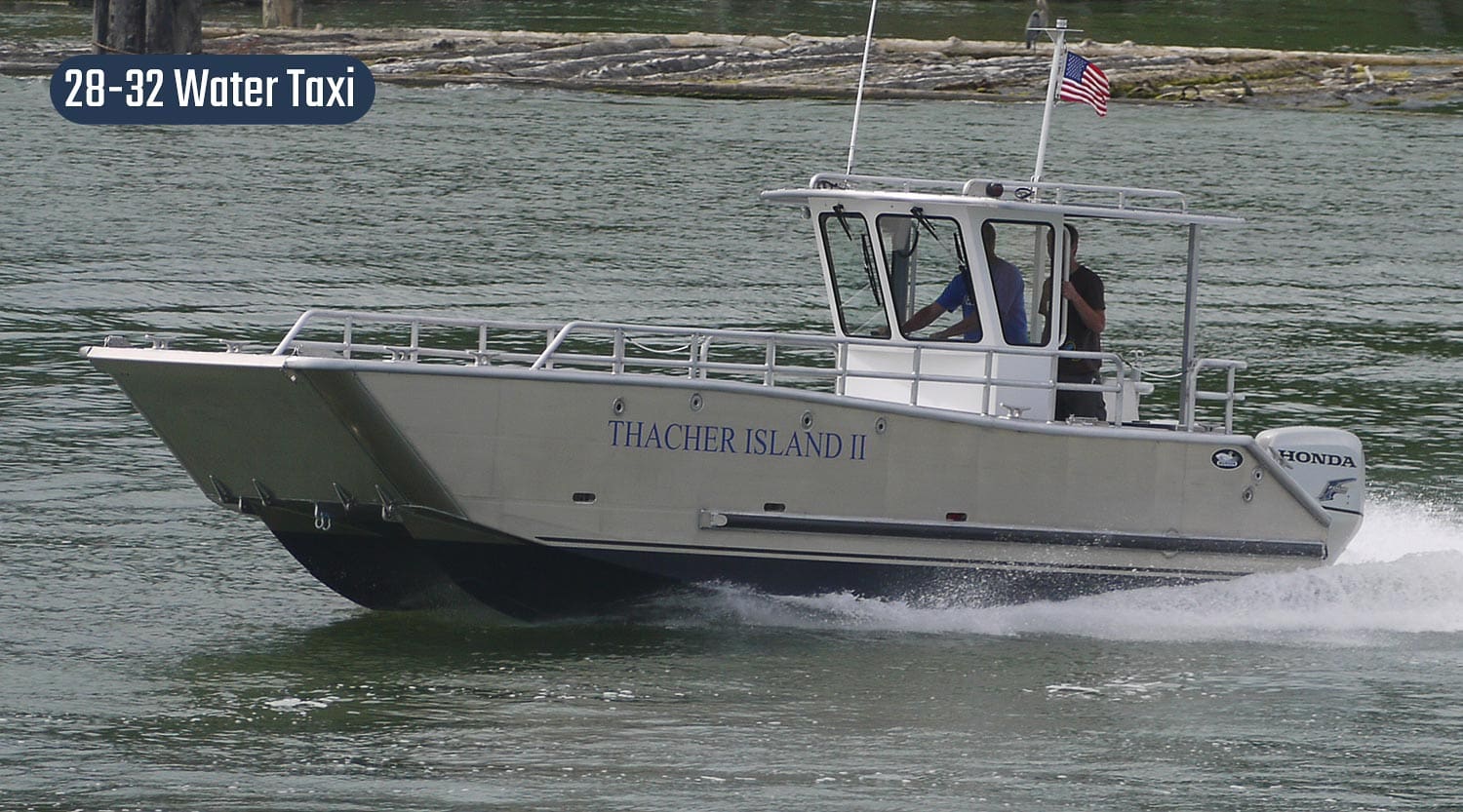 Model: 28-32 Water Taxi
Rockport, MA: The city of Rockport's M/V Thacher Island II transports up to 12 visitors at a time from the mainland to historic Thacher Island. Deck seating is provided by folding benches on the port and starboard hull sides. Special features include a Harken winch and line guide installed at the transom and special UHMW rollers on the bottom of the hull. The rollers allow Thacher Island II to be winched up a wooden ramp on the island for storage.
Hull Length:
28 ft (8.5 m)
Propulsion:
Outboard (25" shaft)
Speed:
37 mph, light ship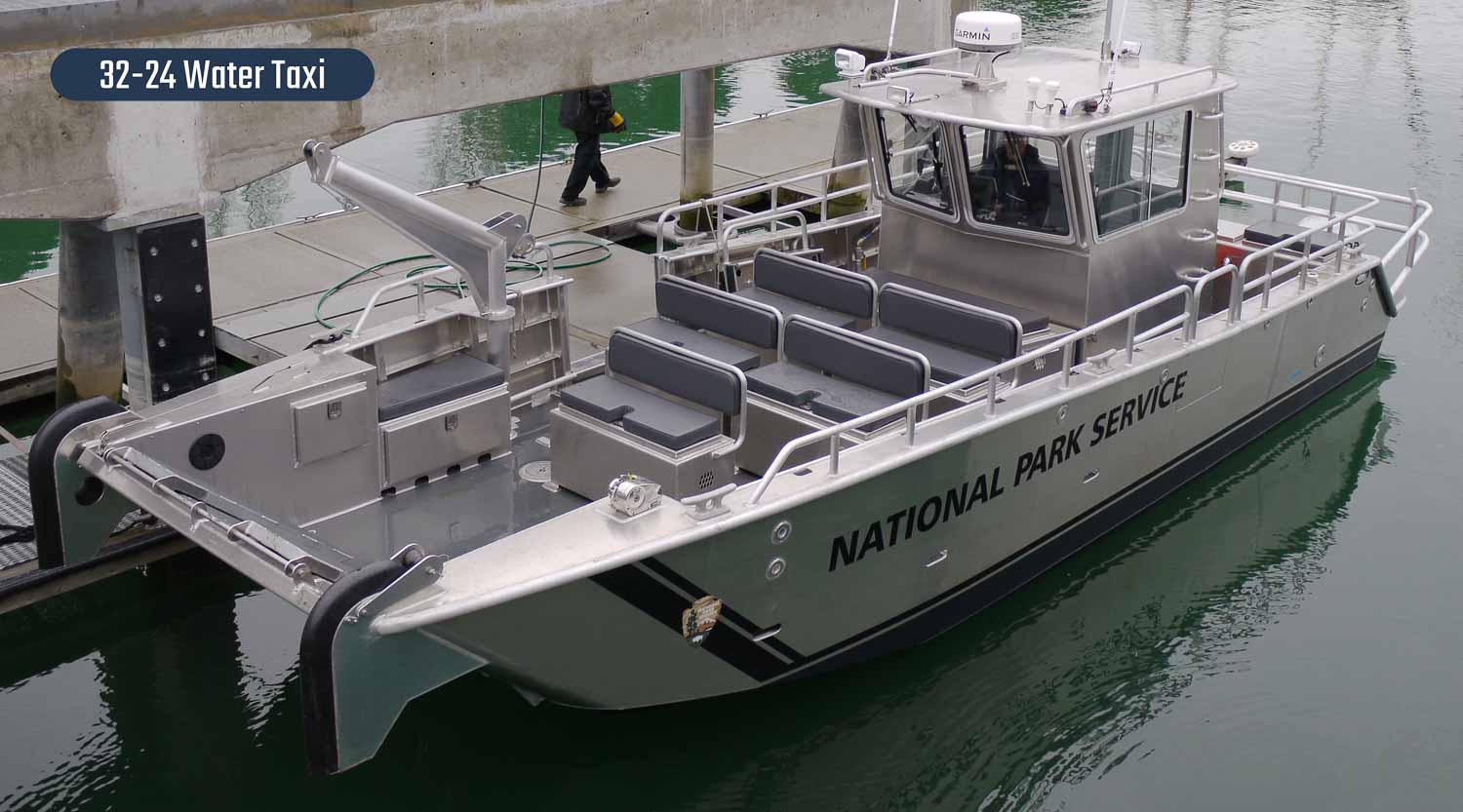 Model: 32-24 Water Taxi
Salem, MA: The Salem Maritime National Historic Site was the first national historic site established. Its purpose is to promote the maritime history of New England, and preserve the historic waterfront. The M/V Naumkeag is COI certified for 18 passengers + 2 crew for a regular route from Derby Wharf to a beach located on Baker's Island. Passenger seating is provided by cushioned seat lockers on the forward deck and a stbd. side door provides wheelchair access.
Hull Length:
32 ft (9.75 m)
Propulsion:
Outboard (30" shaft)
Speed:
41 mph, light ship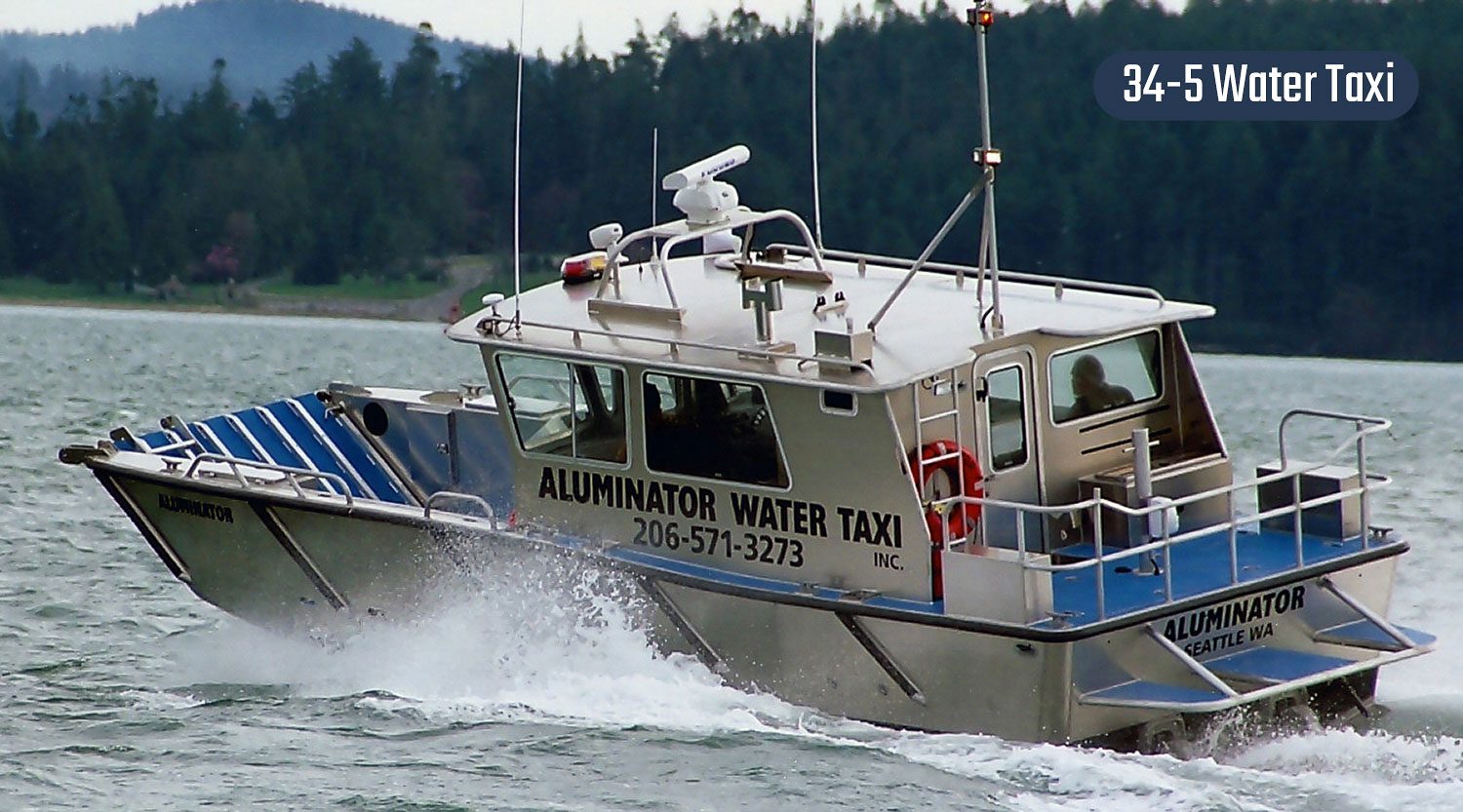 Model: 34-5 Water Taxi
Seattle, WA: Whether your destination is a dock, another vessel, a dive site, or a point on shore, Aluminator Water Taxi can get you there safely and on time. Based out of Seattle the M/V Aluminator provided diver support for the Pier 91 unexploded munitions disposal project. The wheelhouse features an enclosed head compartment, full galley and seating for six for passenger transport and six standard shipping pallets can be secured to the forward deck.
Hull Length:
34 ft (10.5 m)
Power:
Volvo D6 310 hp x 2
Propulsion:
Volvo Sterndrive
Speed:
46 mph, light ship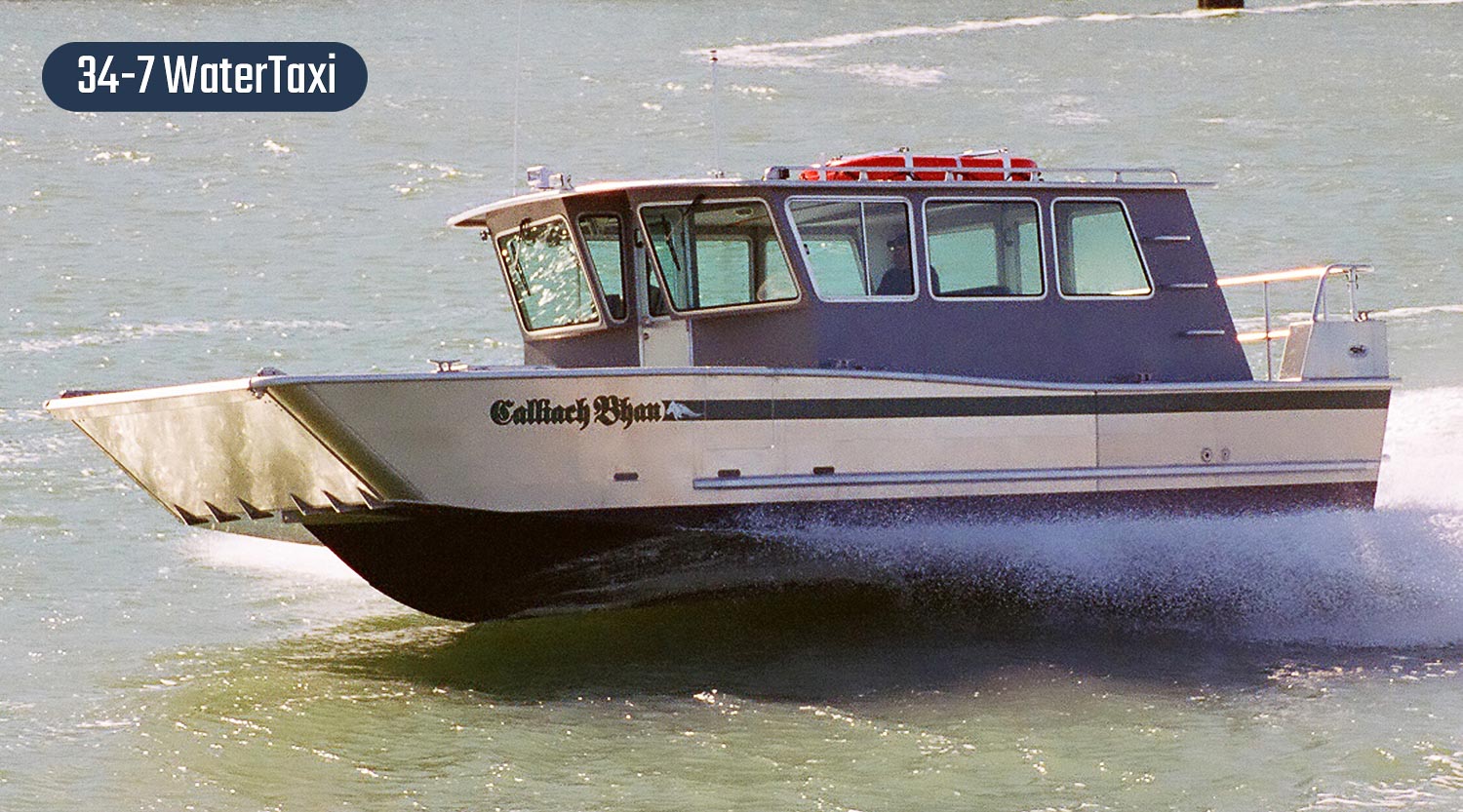 Model: 34-7 Water Taxi
Loch Eileen, Scotland: Loch Ericht is the tenth largest freshwater lake in Scotland and has a good reputation for its hunting and trout fishing. The Calliach Bhan transports up to 12 sportsmen to and from private hunting grounds. A galley cabinet in the wheelhouse houses a 26 gallon fresh water system with sink and seating is provided by a convertible settee and two seat lockers that provide gun storage. A EU compliant Fireboy Halon auto shutdown fire suppression system is installed in the engine room.
Hull Length:
34 ft (10.5 m)
Power:
Volvo D6 310 hp x 2
Propulsion:
Volvo Sterndrive
Speed:
46 mph, light ship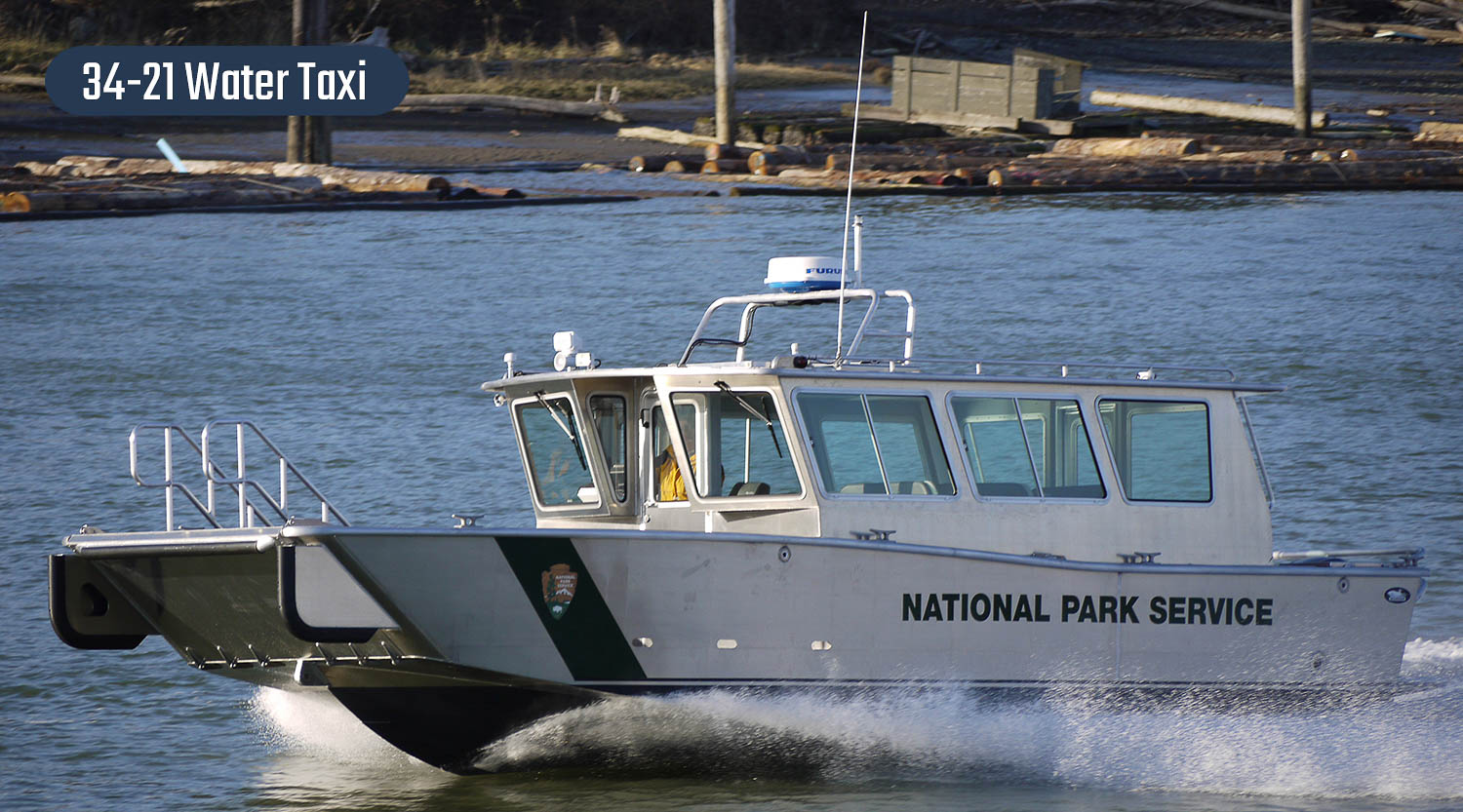 Model: 34-21 Water Taxi
Charleston, SC: Located in Charleston Harbor, Fort Sumter was the site of the first shots of the Civil War. Park staff commutes to the Fort Sumter National Monument 7 days per week. A special stairway and railings were installed on the bow door to access the monument dock ladder and the wheelhouse offers seating for 14 passengers. A short sliding door at the helm allows the captain to operate/tie up the boat from the console without crew.
Hull Length:
34 ft (10.5 m)
Propulsion:
Outboard (30" shaft)
Speed:
43 mph, light ship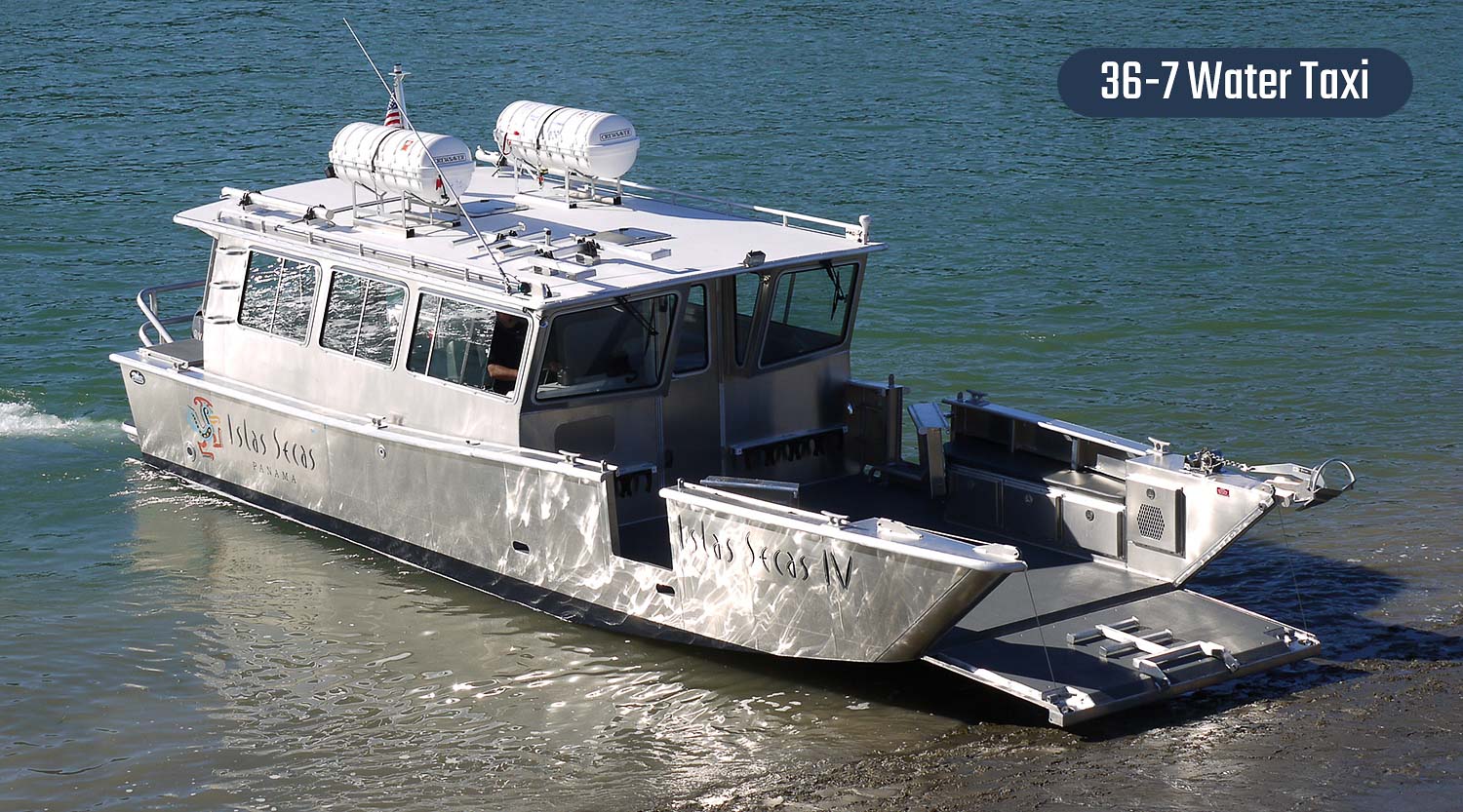 Model: 36-7 Water Taxi
Islas Secas, Panama: Located 25 miles off the coast of Panama, Islas Secas is a chain of 16 jungle-clad volcanic islands. This 36' Munson is used to transport tourists and facilitate diving operations in one of the most bio-diverse marine habitats in the world. Outfitting includes inside seating for 20 passengers, port & starboard dive doors, foredeck bench seating, dive bottle racks, two dive ladders, Garmin plotter/sounder, bow anchor windlass and 50 gal fresh water system.
Hull Length:
36 ft (11 m)
Propulsion:
Outboard (30" shaft)
Speed:
48 mph, light ship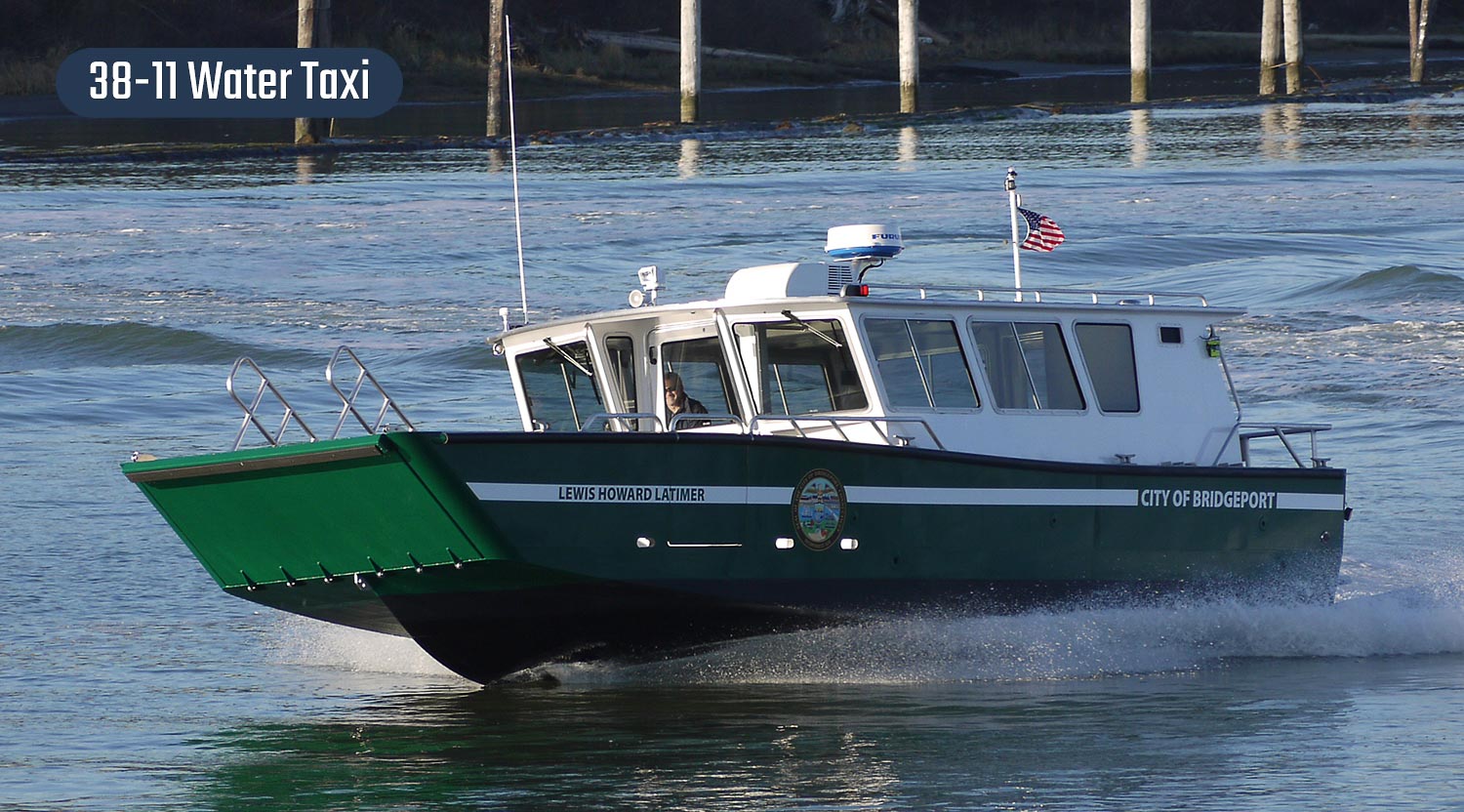 Model: 38-11 Water Taxi
Bridgeport, CT: The City of Bridgeport operates the M/V Lewis Howard Latimer to service Pleasure Beach, a barrier beach that was abandoned in the late 1990's after a fire on the bridge that connected it to the mainland. This US Coast Guard certified passenger vessel is outfitted with wheelchair accessible side doors, air conditioned cabin with seating for 20, Furuno NavNet electronics, and 12V bow thruster for tight quarter maneuvering.
Hull Length:
38 ft (11.5 m)
Propulsion:
Outboard (30" shaft)
Speed:
40 mph, light ship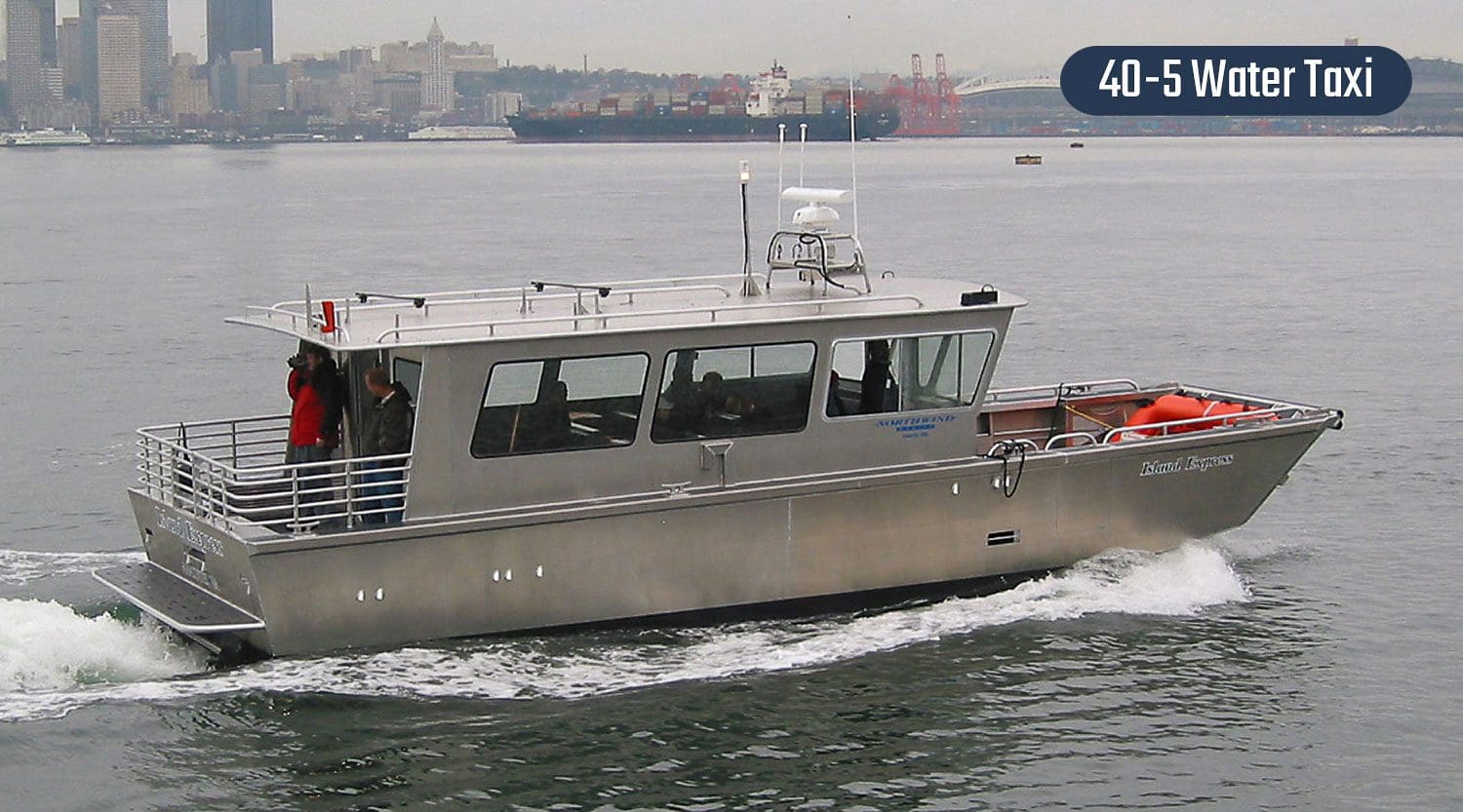 Model: 40-5 Water Taxi
Anacortes, WA: Island Express Charters was founded to provide fast, reliable, safe and convenient water transportation to the San Juan Island region. The M/V Island Express is U.S.C.G. certified for 42 passengers. It has indoor seating for 32 persons and outdoor seating for 10 more. It is equipped to handle many different situations, making it the most versatile vessel in the region. The 150 square feet of deck space and ample seating areas make this vessel ideal for large groups, and kayak transportation.
Hull Length:
40 ft (12.2 m)
Propulsion:
Konrad 520 sterndrives
Speed:
36 mph, light ship