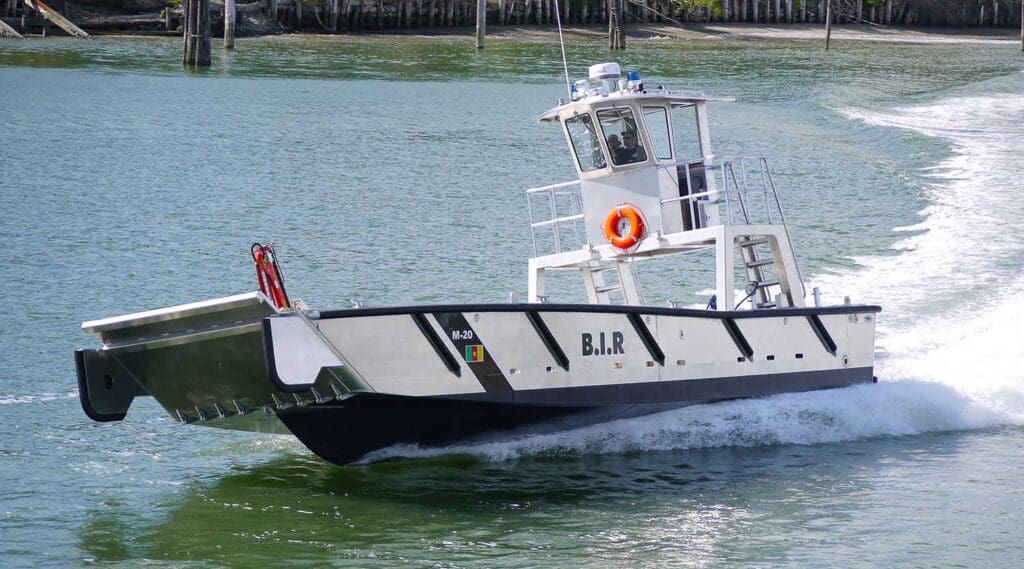 Redefining landing craft
Professional mariners know that you can't have everything you want in one boat. You must pick and choose what is most important. Many people think that you must trade comfort and speed for usefullness. The Munson 44' Series demonstrates that you can have it all – comfort, speed and maximum utility. Our 44' Series is an incredibly seaworthy vessel that has held up to abuse that would destroy most boats.
Bill Munson has been a pioneer in the aluminum boat manufacturing business for over 40 years. As an entrepreneur, he has supported over 2,500,000 man hours in advancing aluminum boat design and construction methods. Today, Munson continues to push the envelope to bring our customers the most advanced, rugged & capable welded aluminum workboats in the world. Our customers make their boats work hard – and test our metal every day.
Our 44' Series is available in 14' beam in both mono hull and catamaran designs. Twin 350-425 HP outboards are used commonly used. Triple or quad 250-350 outboards can be utilized for high speed, heavy load applications. Twin inboard diesels with sterdrives or waterjets are also available for the 44' Series. The addition of a 12V bow thruster can make a Munson 44 easy to handle.
Our clients say it best…
"In my line of work I see a lot of boats, and this is one fine piece of craftsmanship. It handles really good even with a car on board."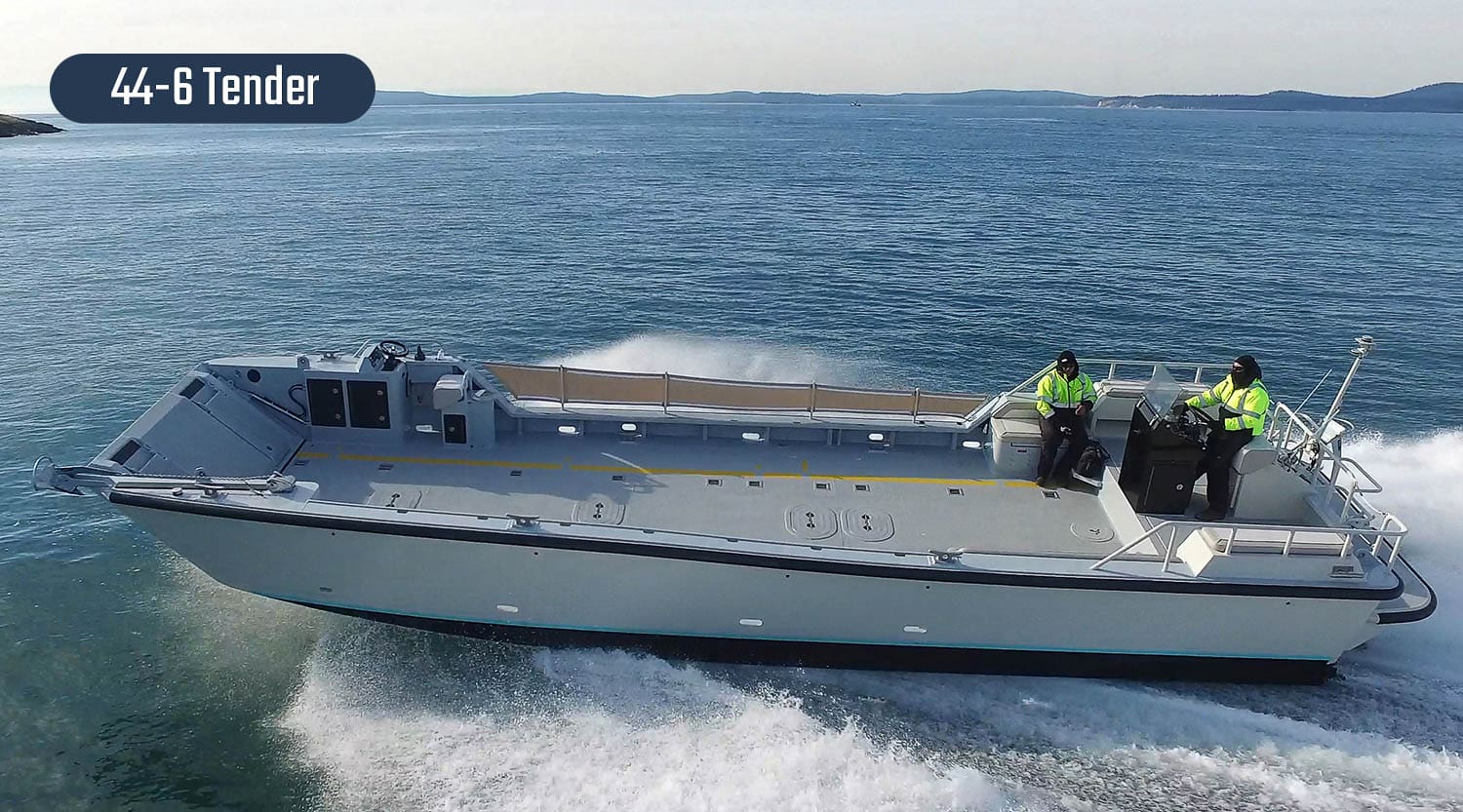 Model: 44-6 Tender
Cypress: This 44' Munson Yacht Tender lives aboard a 142 meter yacht and serves as a ferry for two land rovers, a dive boat and a parasailing platform. Outfitting includes a bow station, dive bottle rack, side boarding ladder, four-point lifting system, dropped side for vehicle loading, parasailing winch and bow and stern anchor pulpits.
Hull Length:
44 ft (13.4 m)
Power:
Volvo D6 330hp x 2
Propulsion:
Volvo DPH Sterndrives
Speed:
40 mph, light ship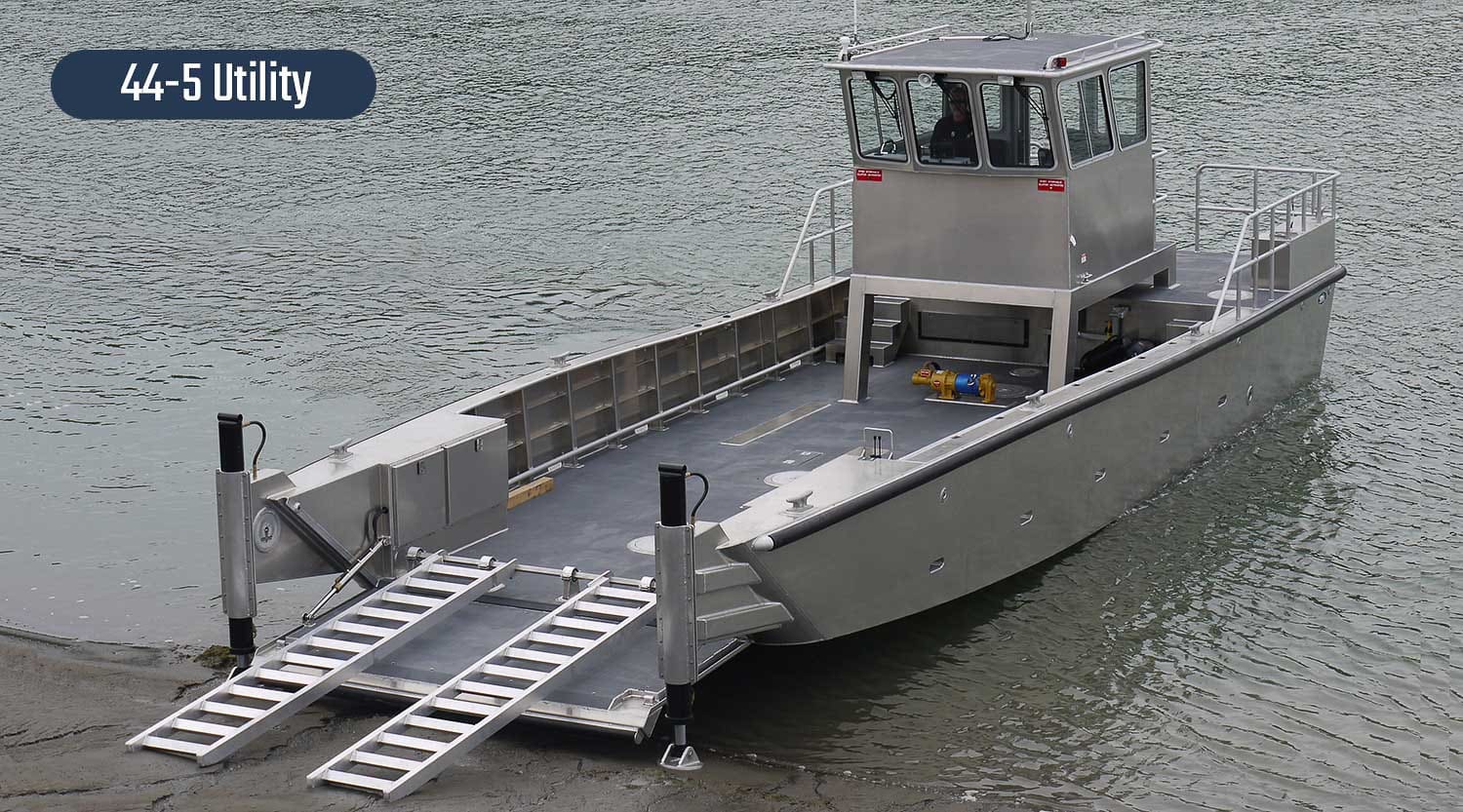 Model: 44-5 Utility
Columbia River, WA: To mitigate the flooding of wildlife habitat caused by the construction of Chief Joseph Dam, the Army Corps of Engineers was mandated to reconstruct the lost habitat. Heavy machinery needs to be transported uplake and wildlife habitat maintained. The Corps selected a Munson high speed landing craft with elevated cabin, 9' bow door and 20,000 lb payload capacity. Hydraulic spuds were installed on the bow to stabilize the vessel when loading heavy equipment.
Hull Length:
42 ft (12.8 m)
Power:
Volvo D6 330 hp x 2
Propulsion:
Volvo DPH sterndrives
Speed:
37 mph, light ship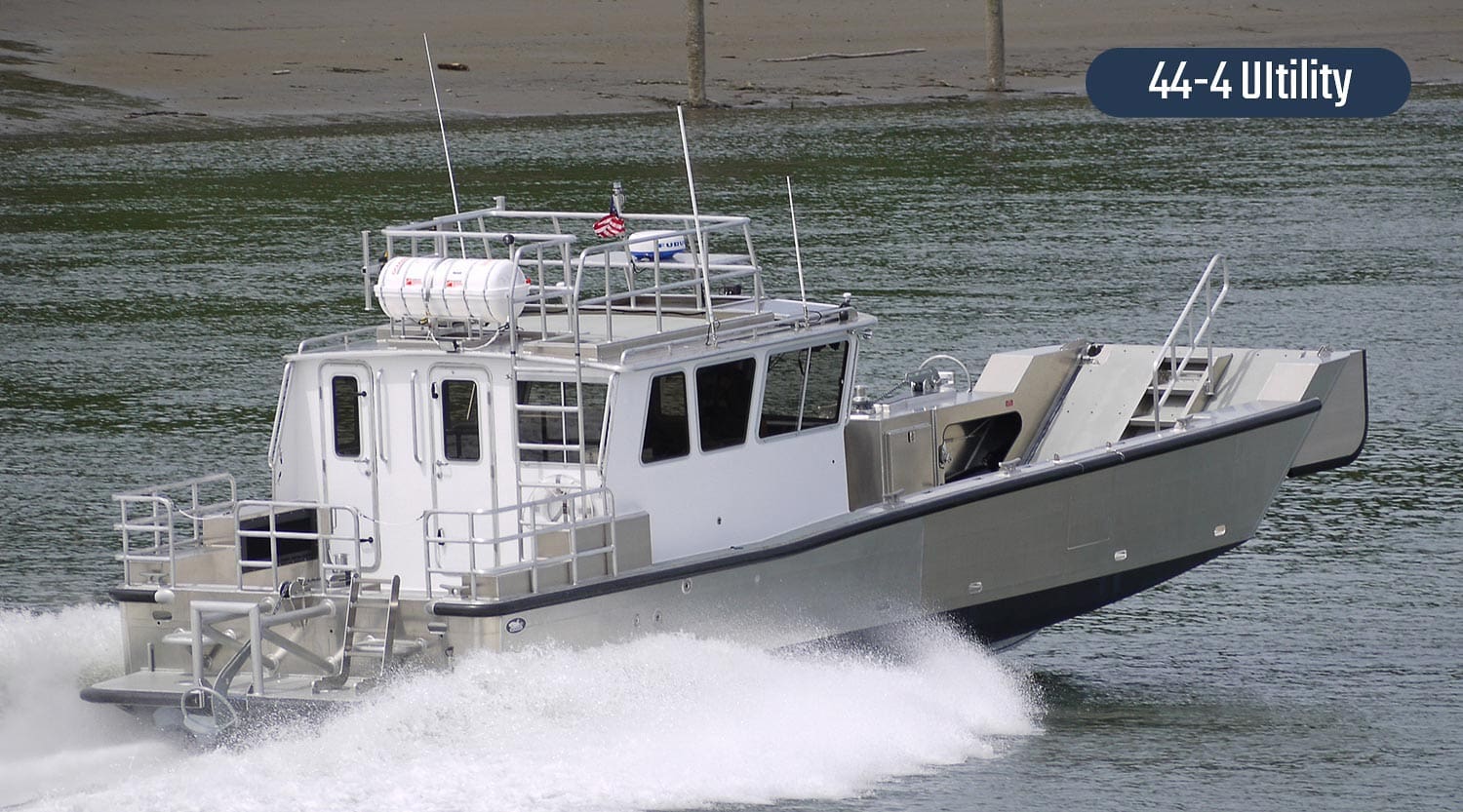 Model: 44-4 Utility
Santa Barbara, CA: Twenty-five miles off the coast of California lies Santa Cruz Island. This 44' Munson provides freight service to Santa Cruz Island and is an extremely capable vessel. With a payload capacity of 14,000 lbs. and a 22' long cargo deck, she can used to transport heavy equipment, palletized cargo and large fuel totes. The cabin includes seating for six persons, head compartment, and galley with sink, stove and microwave. Other features include bow & stern hydraulic anchor winches, side boarding door, dive ladder, push knees, rooftop sighting station, solar battery charger, SOLAS 12-man life raft and Furuno MFD12 radar/plotter/sounder with class B AIS.
Hull Length:
44 ft (13.4 m)
Power:
Cummins QSC8.3 600 hp x 2
Propulsion:
Hamilton Jet 322
Speed:
41 mph, light ship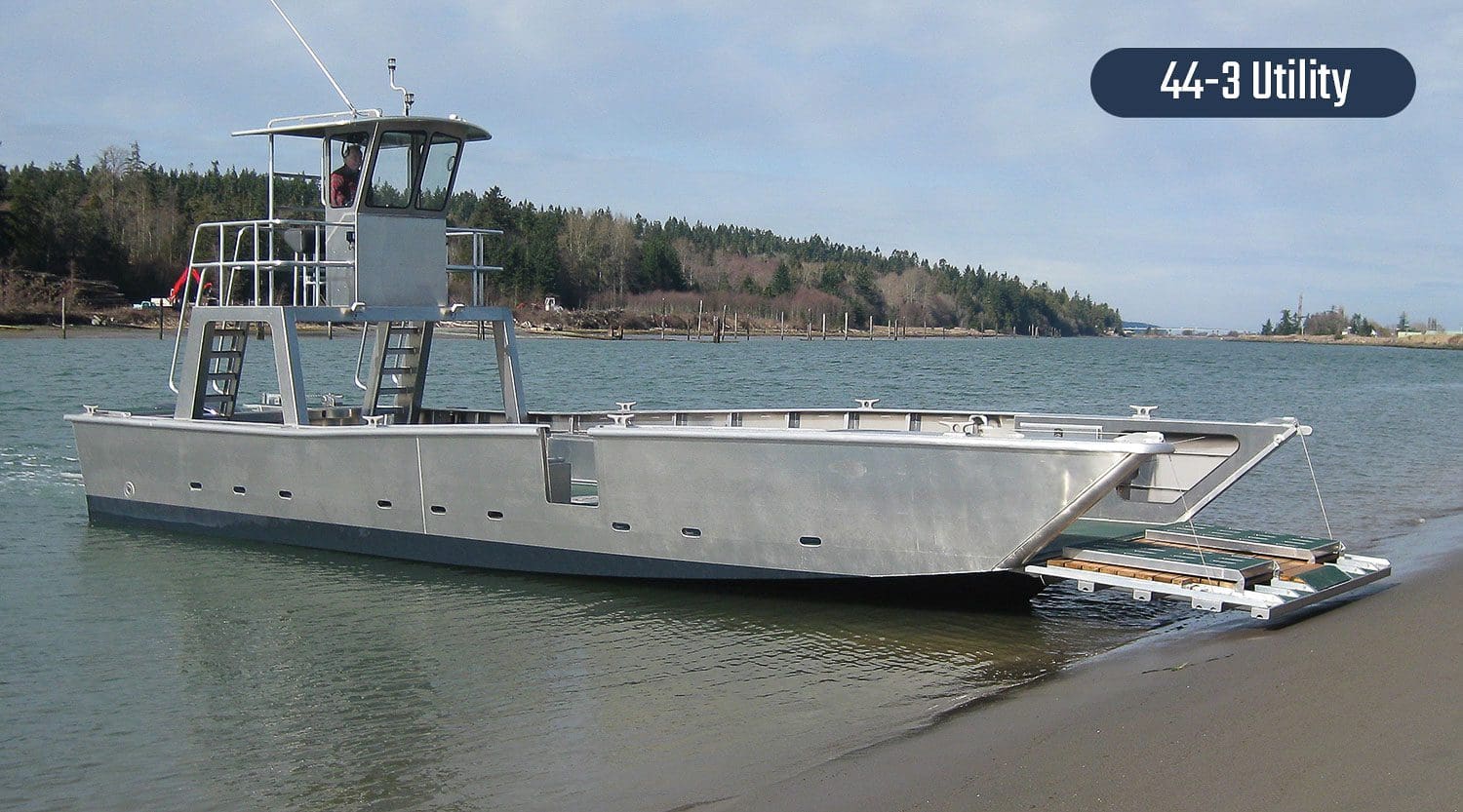 Model: 44-3 Utility
Nassau, Bahamas: The Bahamas are famous for blue water and white sand beaches. This Munson sees duty transporting vehicles and passengers to remote island destinations not listed in the tourist guide. To accommodate heavy equipment and vehicles the standard bow door structure and hinges were upgraded to support 8 ton wheeled or tracked vehicles. To allow the operator to maneuver safely through small marinas and ports a 6 hp bow thruster with joystick control was installed.
Hull Length:
44 ft (13.4 m)
Propulsion:
Outboard (30" shaft)
Speed:
40 mph, light ship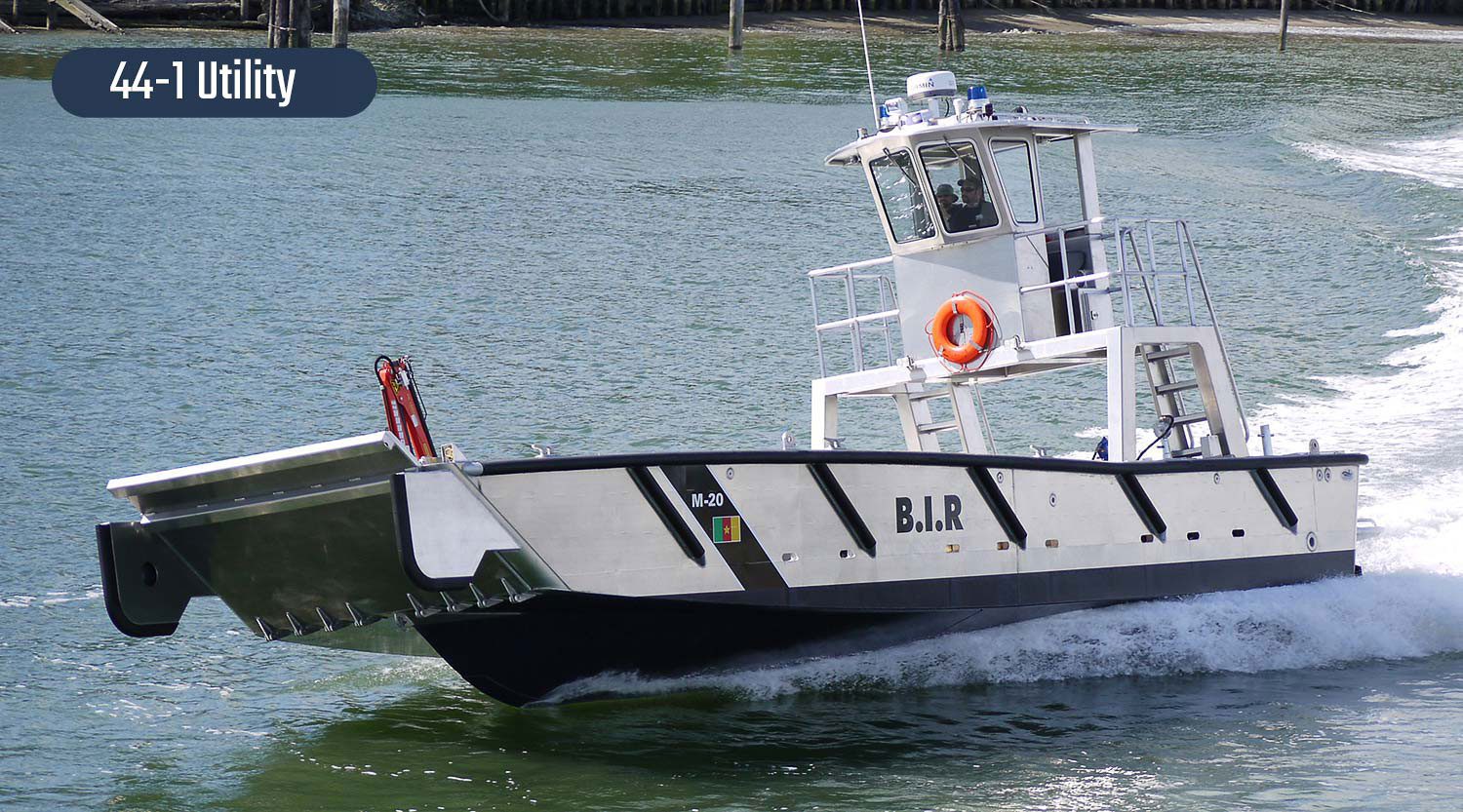 Model: 44-1 Utility
Cameroon, West Africa: The Cameroon Special Forces Rapid Intervention Battalion is responsible for border protection and the defense of public petroleum interests on the Bakassi peninsula. They operate a Munson as a logistical support craft. A lengthened bow door was installed for the loading of an 8-ton military vehicle. A Palfinger hydraulic telescoping boom crane and auxiliary fuel transfer tanks assist the unit in routine operations.
Hull Length:
44 ft (13.4 m)
Propulsion:
Outboard (30" shaft)
Speed:
40 mph, light ship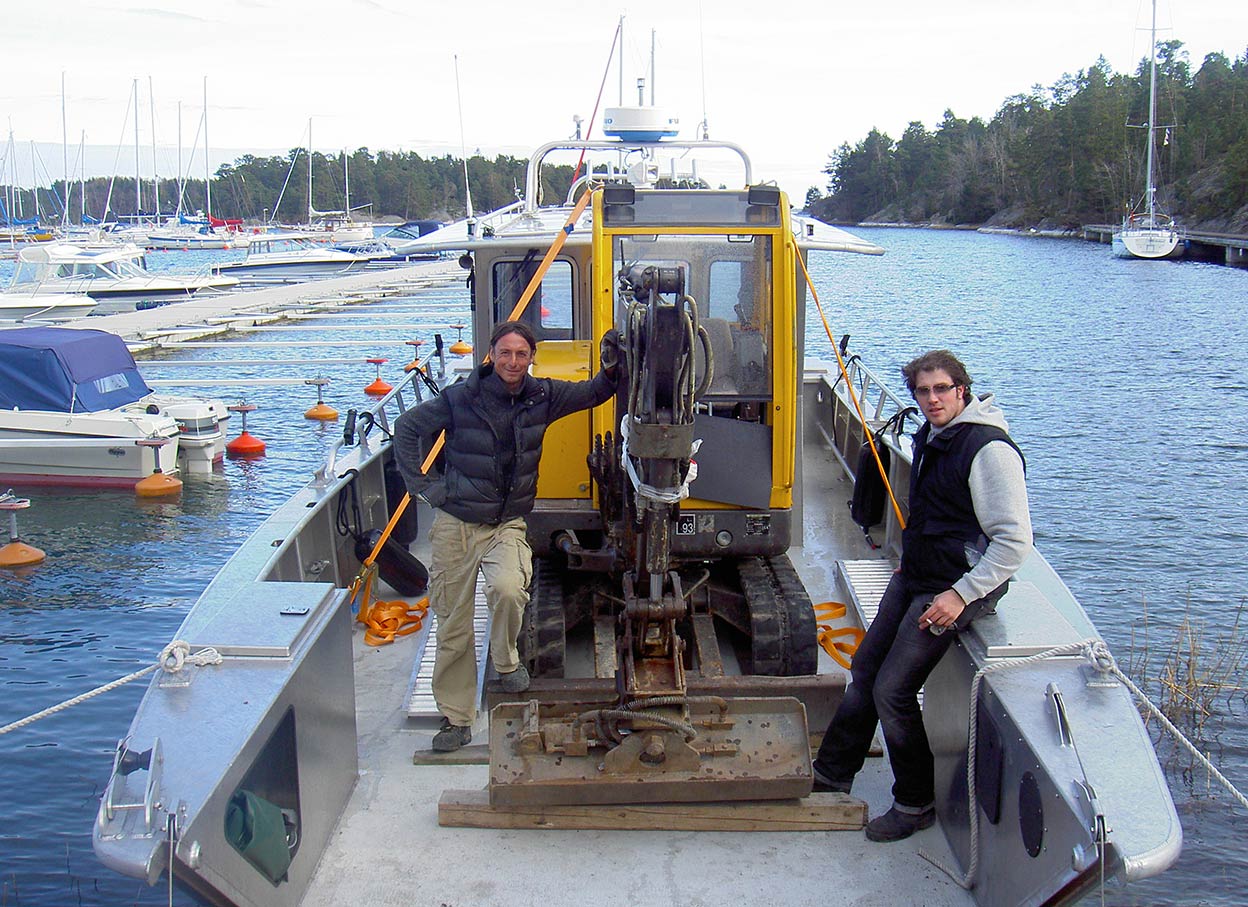 Our clients say it best…
"I am working as a consultant taking care of the CE-certification of a newly bought Munson Boat in Sweden. I must congratulate you for doing a fine job. In my line of work I see a lot of boats, and this is one fine piece of craftsmanship. It handles really good even with a car on board. I am very impressed, indeed."
Jakob
Saltsjobaden, Sweden