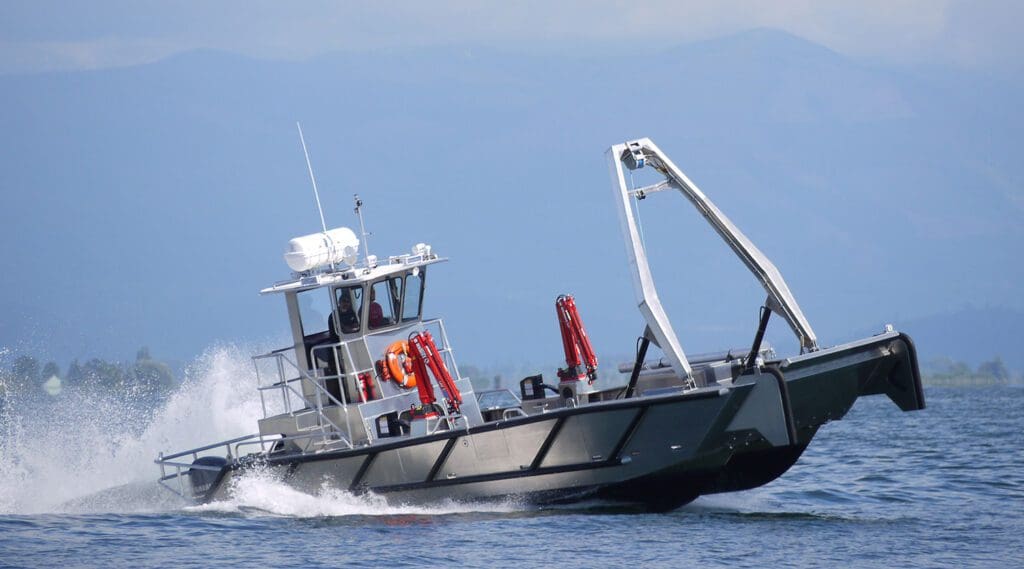 If you can find a better built boat… Buy it
Bill Munson designed and built his first 40' welded aluminum landing craft in 1984 for the US Army Corps of Engineers. That boat is still in operation today. It has successfully transported backhoes, tractors and heavy equipment for decades. Its Caterpillar engines have been rebuilt twice. Simply put, a Munson will outlast any boat built today.
The finest craftsmanship, the heaviest construction, and the best reputation. Bill Munson did more than just invent the modified V-hull and catamaran landing craft, he set a standard of engineering and manufacturing excellence that continues to this day. Today's Munson Boats are a product of over 2,500,000 man hours of striving to design & build the world's finest welded aluminum boats. That's why our customers will tell you that no other boat is built like a Munson.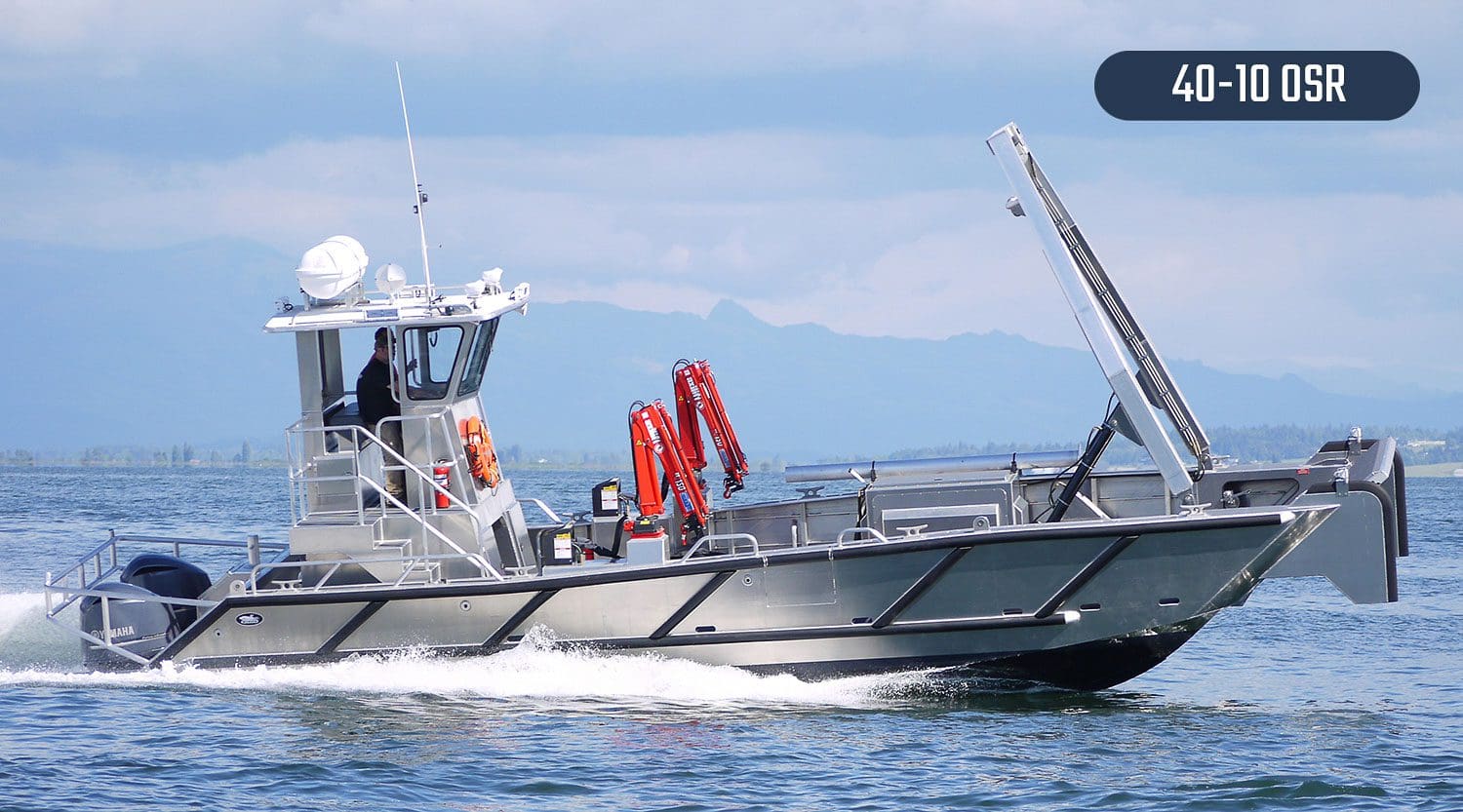 Model: 40-10 OSR
Ras Tanura, Saudi Arabia: Saudi Aramco's Ras Tanura Terminal is one of the world's largest crude oil terminals with a complex of four man-made Sea Islands interconnected by walkways. Their 40' landing craft is used as an offshore pipeline and elevated trestle workboat. Outfitting includes a 1.5-ton capacity hydraulic A-frame and two 2-ton capacity boom cranes. The elevated control station provides visibility over large cargo loads.
Hull Length:
40 ft (12.2 m)
Propulsion:
Outboard (30" shaft)
Speed:
39 mph, light ship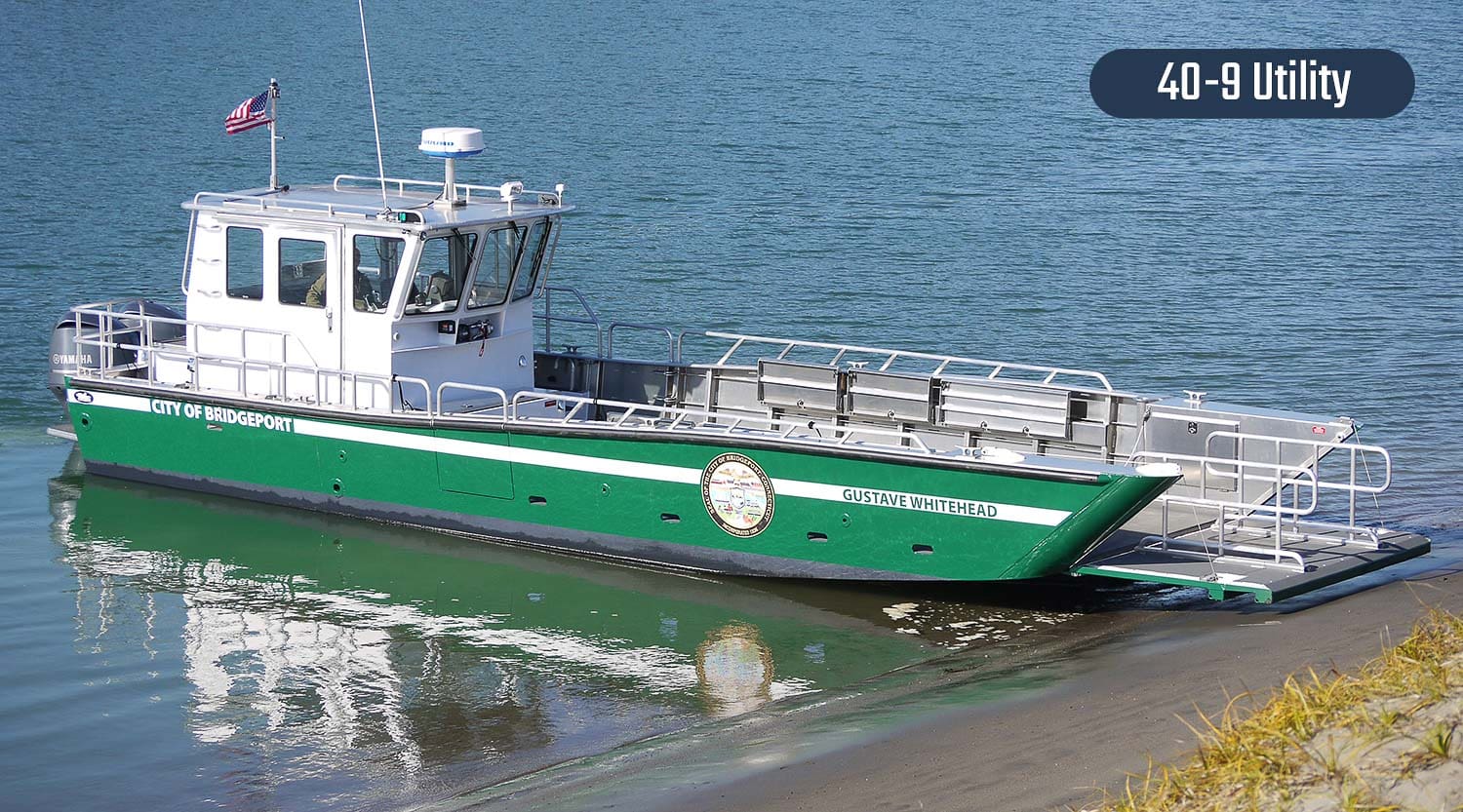 Model: 40-9 Utility
Bridgeport, CT: The city of Bridgeport operates two Munson Boats to service the Long Beach spit in Bridgeport harbor. The Gustave Whitehead was designed to transport a 14,000 pound utility tractor and trailer. The Gustave Whitehead was delivered with a COI for use is semi protected waters and 18 passengers. Special outfitting includes a Fireboy automatic fire suppression system complete with main engine shutdown and 30 Amp Shore power.
Hull Length:
40 ft (12.2 m)
Propulsion:
Outboard (30" shaft)
Speed:
50 mph, light ship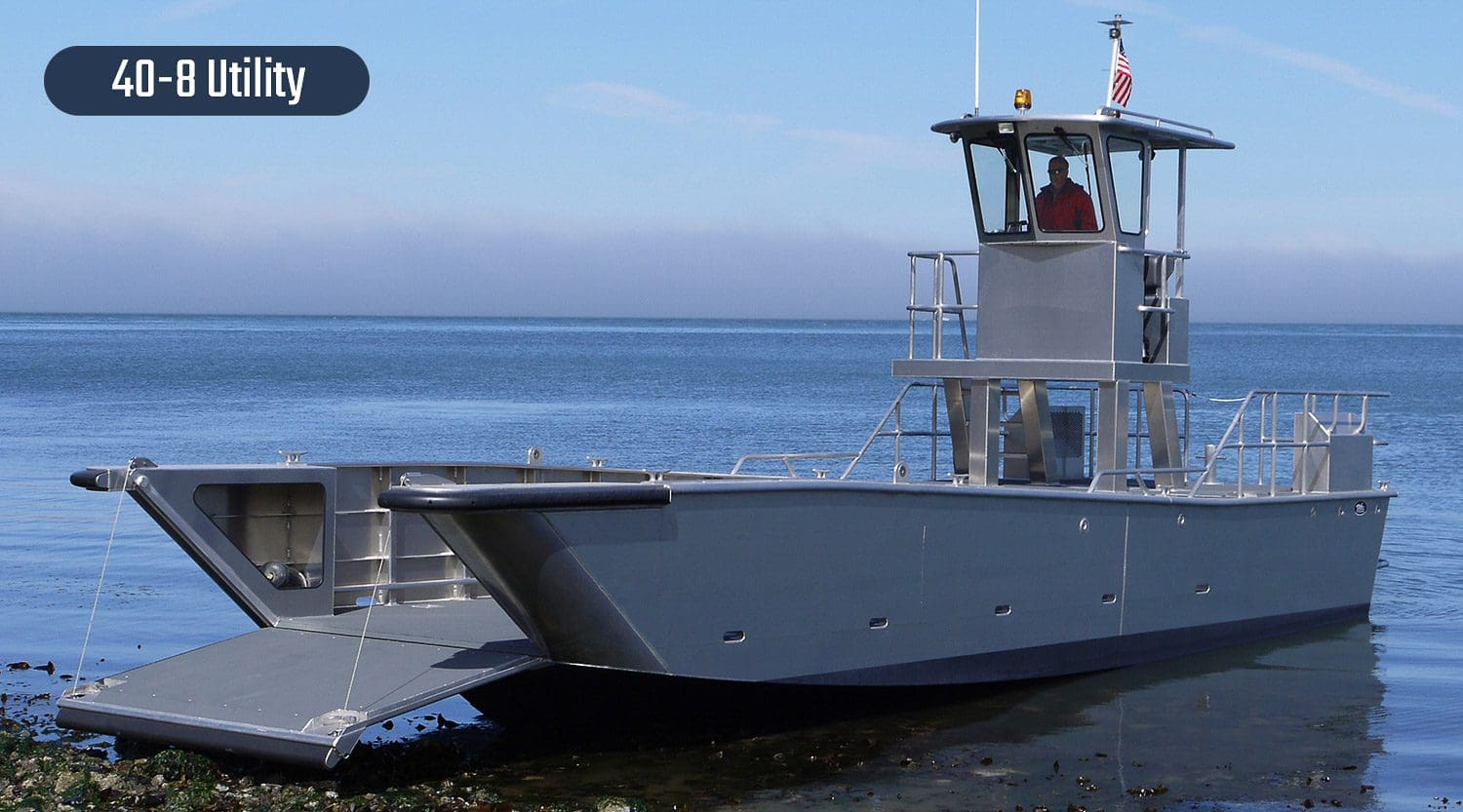 Model: 40-8 Utility
Gabon, West Africa: Oil Integrated Services Group provides river and maritime transport of material and personnel for the Gabon oilfields. This 40' is the flagship of their fleet of four Munson boats. An air conditioned passenger pod with head compartment and seating for 26 people can be fixed to the deck for crew transport. The elevated T-top provides unobstructed visibility while the pod is in use and is removable for shipping.
Hull Length:
40 ft (12.2 m)
Power:
Yanmar 6LP 300 hp x2
Propulsion:
Yanmar ZT370 Sterndrive
Speed:
41 mph, light ship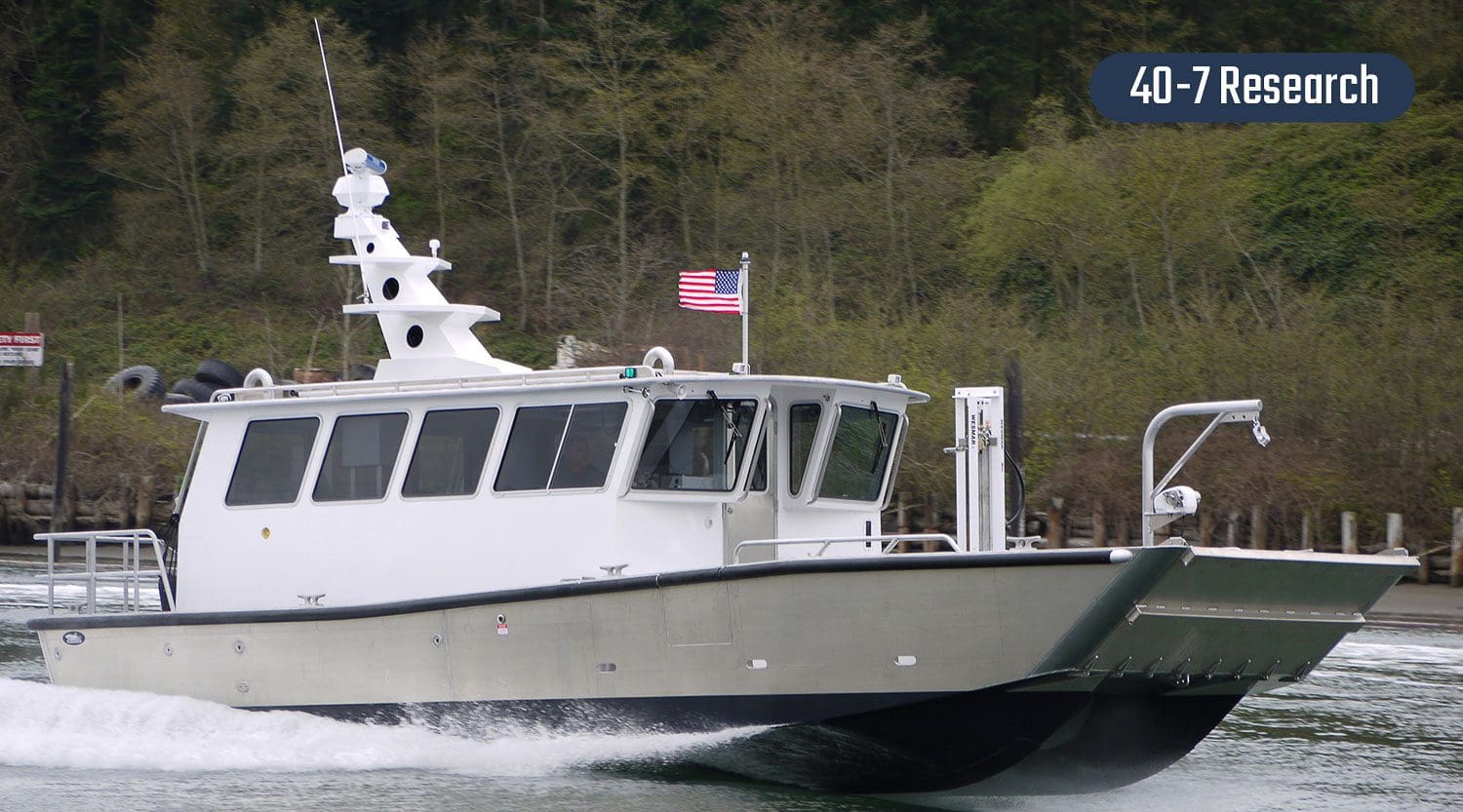 Model: 40-7 Research
Arlington, VA: Leidos maritime tests and develops their advanced maritime data collection systems using a Munson Research model. The expansive wheelhouse offers an enclosed head compartment and workstations for four technicians. AC power for the 60,000 BTU air conditioning systems is provided by a Cummins Onan 19 kW genset. A hydraulic sonar derrick and a sealed bow deck moon hole allow experimental sonar systems to be tested. The wave breaker encapsulates the sonar head while stowed.
Hull Length:
40 ft (12.2 m)
Power:
Volvo D6 330 hp x2
Speed:
40 mph, light ship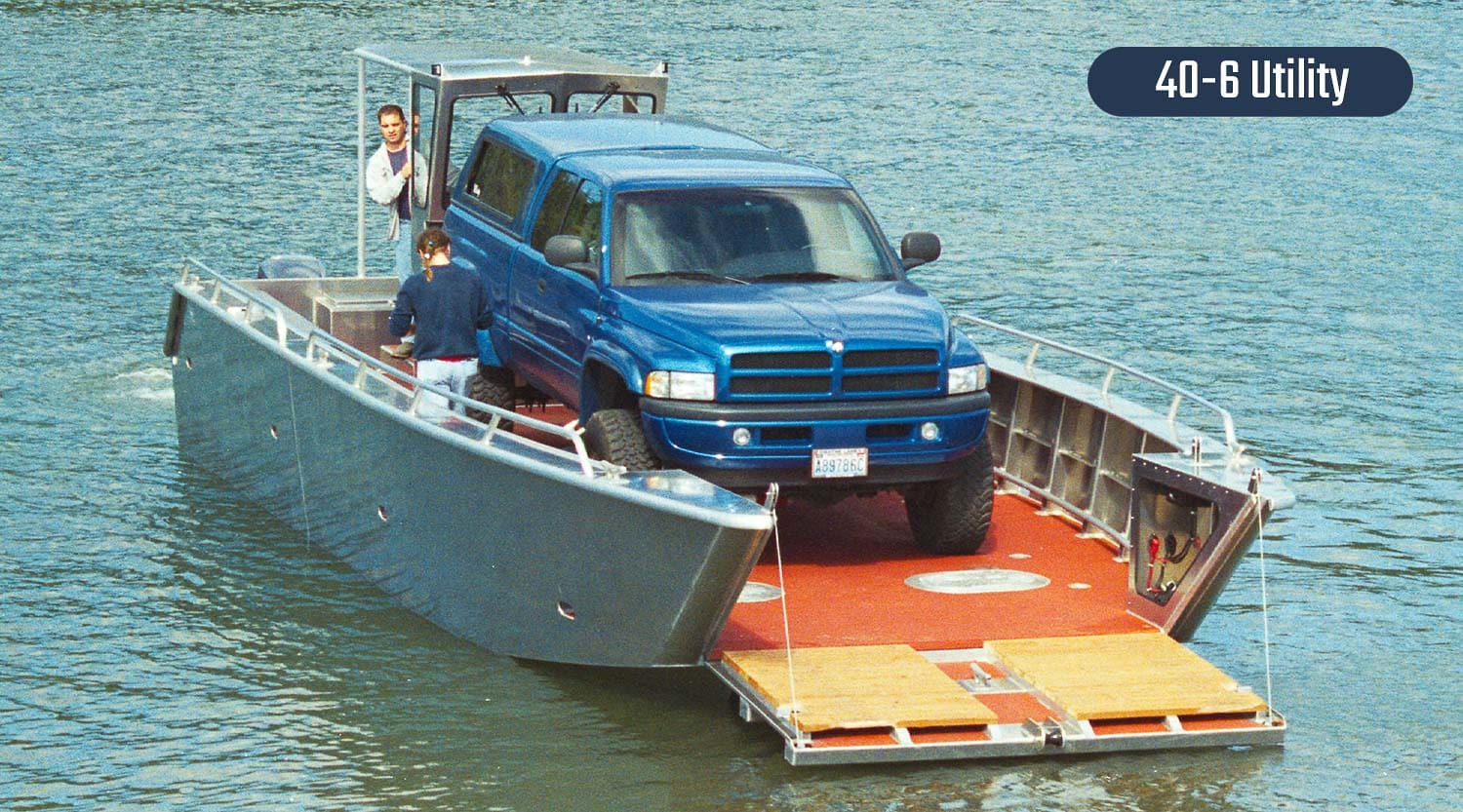 Model: 40-6 Utility
Flathead Lake, MT: Flathead Lake, located just south of Kalispell, Montana is a popular summer retreat destination for hunting and fishing. Timberland Construction uses their Munson for island home construction transport. Crews and equipment are loaded on the mainland and transported several miles to remote sites. A specially strengthened bow door with flip out ramps was installed to accommodate the loading of vehicles.
Hull Length:
40 ft (12.2 m)
Propulsion:
Outboards (30" shaft)
Speed:
38 mph, light ship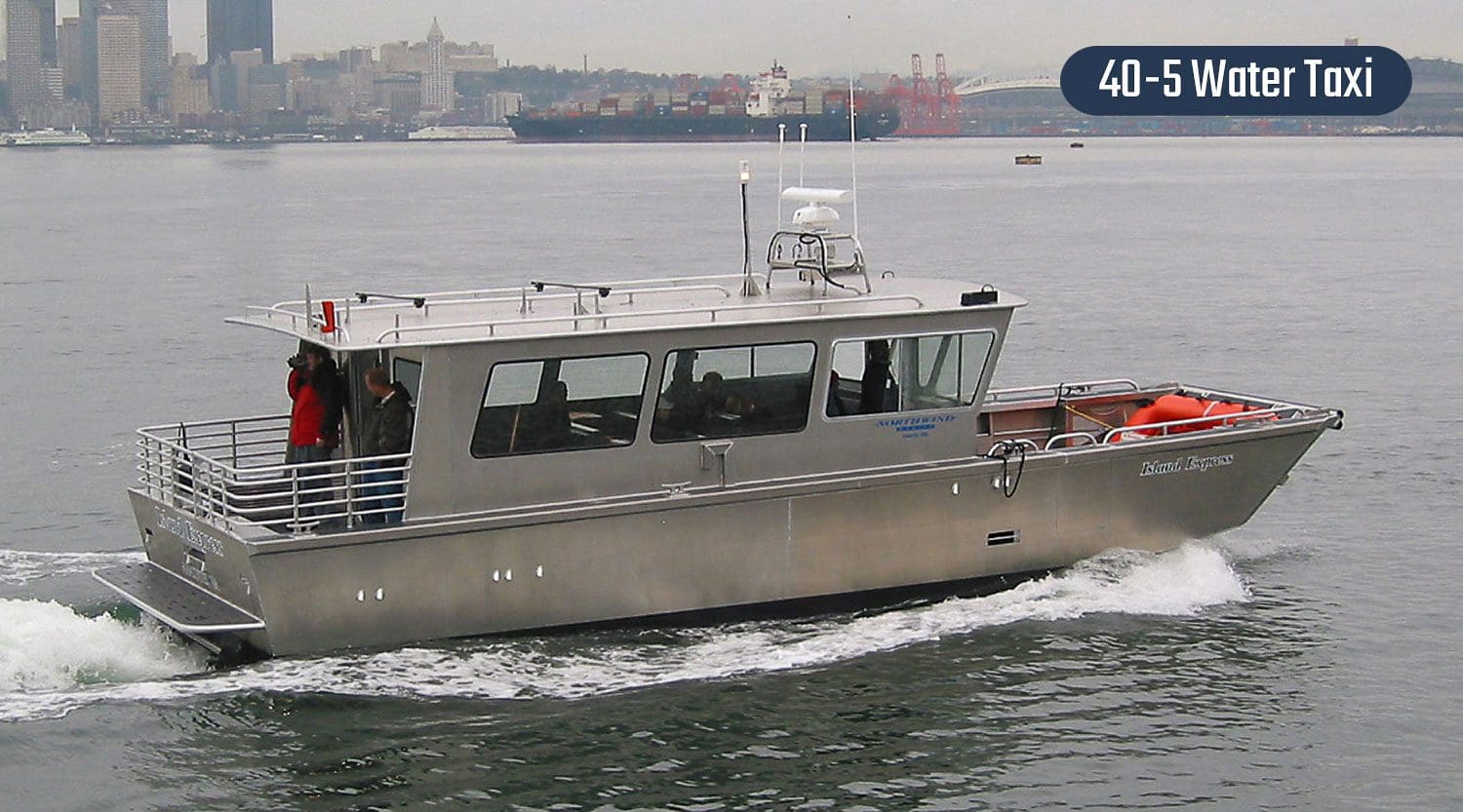 Model: 40-5 Water Taxi
Anacortes, WA: Island Express Charters was founded to provide fast, reliable, safe and convenient water transportation to the San Juan Island region. The M/V Island Express is U.S.C.G. certified for 42 passengers. It has indoor seating for 32 persons and outdoor seating for 10 more. It is equipped to handle many different situations, making it the most versatile vessel in the region. The 150 square feet of deck space and ample seating areas make this vessel ideal for large groups, and kayak transportation.
Hull Length:
40 ft (12.2 m)
Propulsion:
Konrad 520 sterndrives
Speed:
36 mph, light ship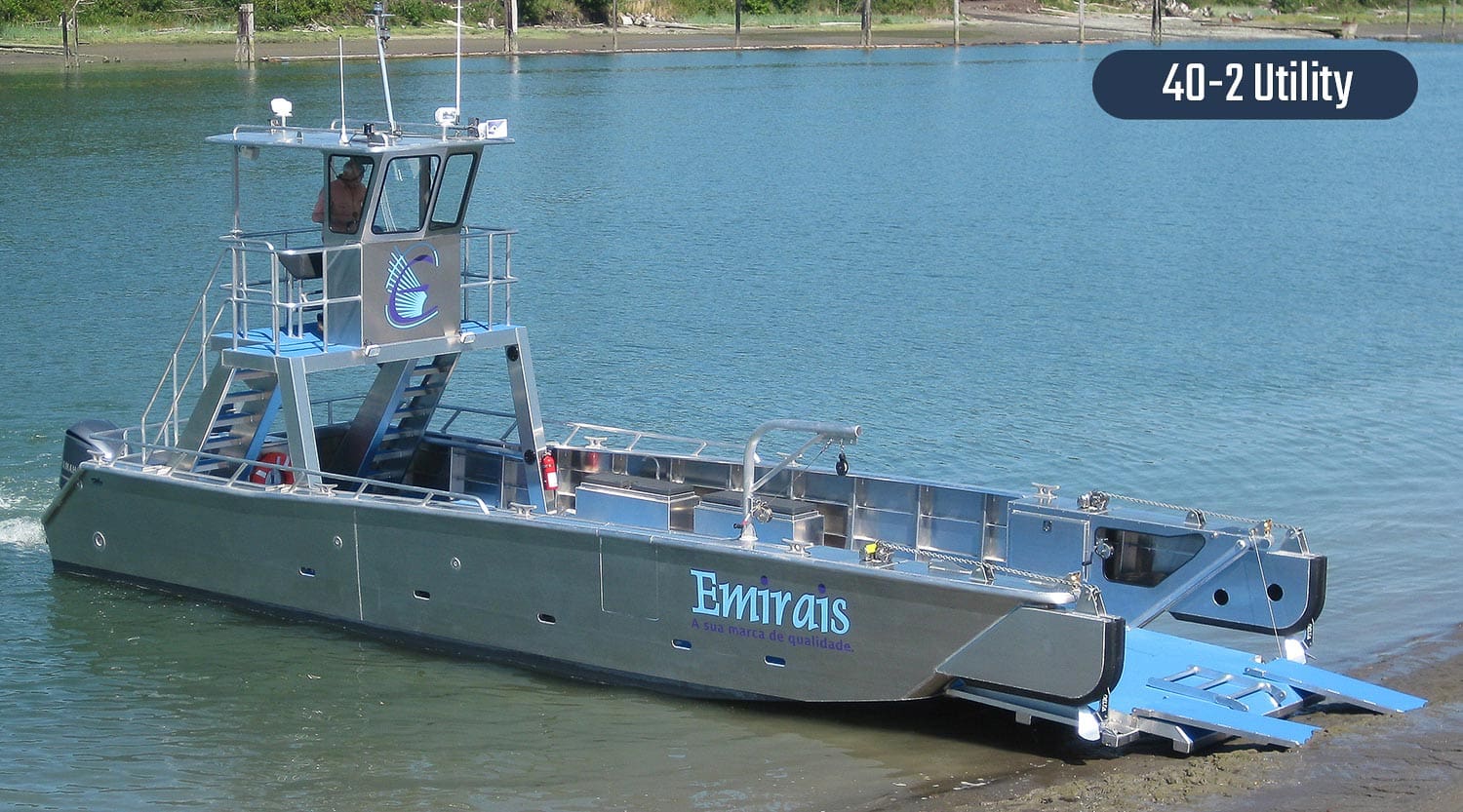 Model: 40-2 Utility
Luanda, Angola: Ilha de Luanda is a spit separated from the city of Luanda by Luanda Bay. While it is possible to drive to homes on the spit, some residents choose to avoid the severe traffic of Luanda. M/V Emirais transports its owners and their vehicles back and forth between their home on the spit and the mainland. Special features include a bow-mounted dual anchor system, underwater transom lighting and heavy duty bow door ramps.
Hull Length:
40 ft (12.2 m)
Propulsion:
Outboards (30" shaft)
Speed:
35 mph, light ship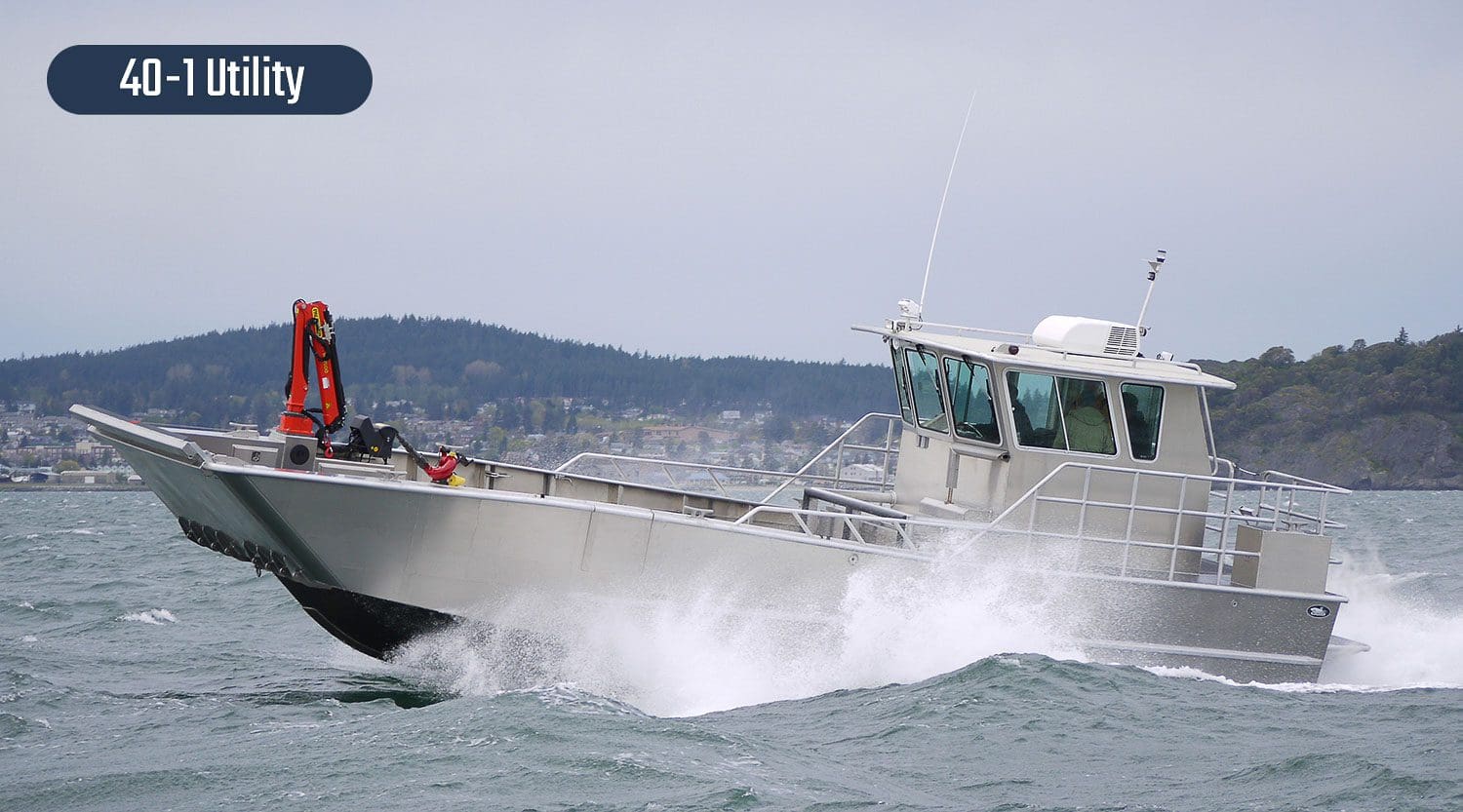 Model: 40-1 Utility
Smartsville, CA: Englebright Lake is nestled in the scenic Sierra foothills. It was constructed for the storage of hydraulic gold mining debris during the California gold rush. The US Army Corps of Engineers oversee the upkeep of the lake's campsites, and other attractions. Typically, the vessel transports an 18,000lb sewage pump-out trailer. A Darley 360 GPM fire pump and monitor were installed to assist fire crews.
Hull Length:
40 ft (12.2 m)
Propulsion:
Hamilton 274 waterjet
Speed:
40 mph, light ship