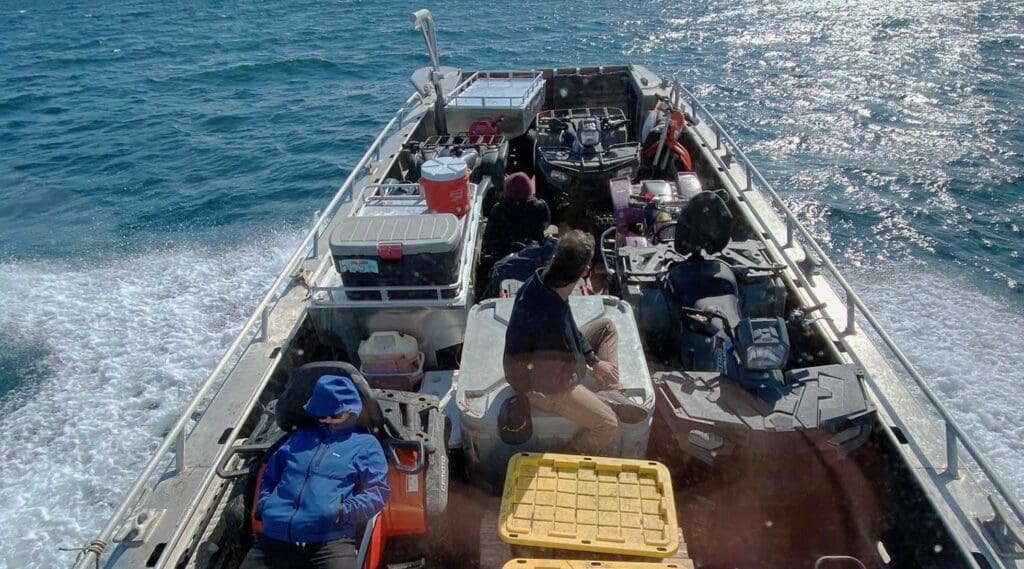 "You're gonna need a bigger boat"
It's one of the most quotable lines in movie history. If you're truly shopping for a bigger boat, the Munson 52' Series has a lot to offer. Like all Munson Boats, every 52' is individually customized for each client's unique requirements and application. Our 52' Series are used by the military for transporting armored personnel carriers, by builders to develop remote islands, or it can be a 52' offshore sportfishing juggernaut.
A mechanized tool is a machine. We build a very serious 52 foot machine – a machine that does things that other machines can do, as well as a few things other machines can't do. One of those things is landing on a beach. We challenge anyone to find a better machine for that job.
Our clients say it best…
"It's been a great experience working with you and your fabulous company on the WCMRC new builds"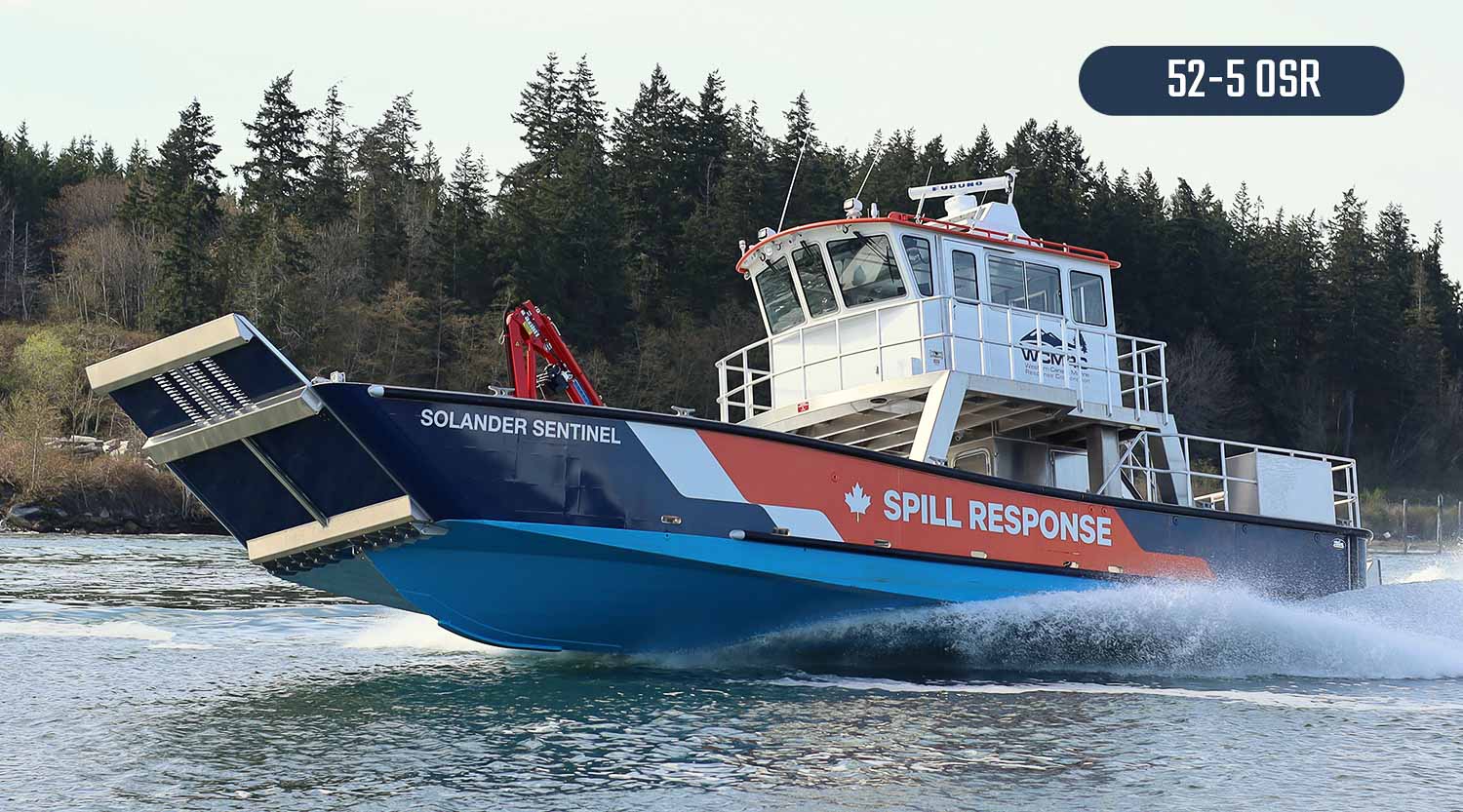 Model: 52-5 OSR
Sydney, BC: WCMRC is the only Transport Canada-certified marine spill response organization on Canada's West Coast. WCMRC operates a small fleet Munson Boats including four of these 52 footers which are powered by twin 750 HP Scania diesels with Fernstrum closed loop keel coolers. Twin Hamilton 403 jets are operated with Glendinning Complete Controls 2 system with joystick piloting for precise maneuvering. Additional outfitting includes a bow control station, Maxilift ML330.4H deck crane with wireless controls, interceptor trim tabs, 3M vinyl wrap and Sonihull ultrasonic antifouling system.
Hull Length:
52 ft (15.8 m)
Propulsion:
Hamilton 403 water jet
Speed:
37 mph, light ship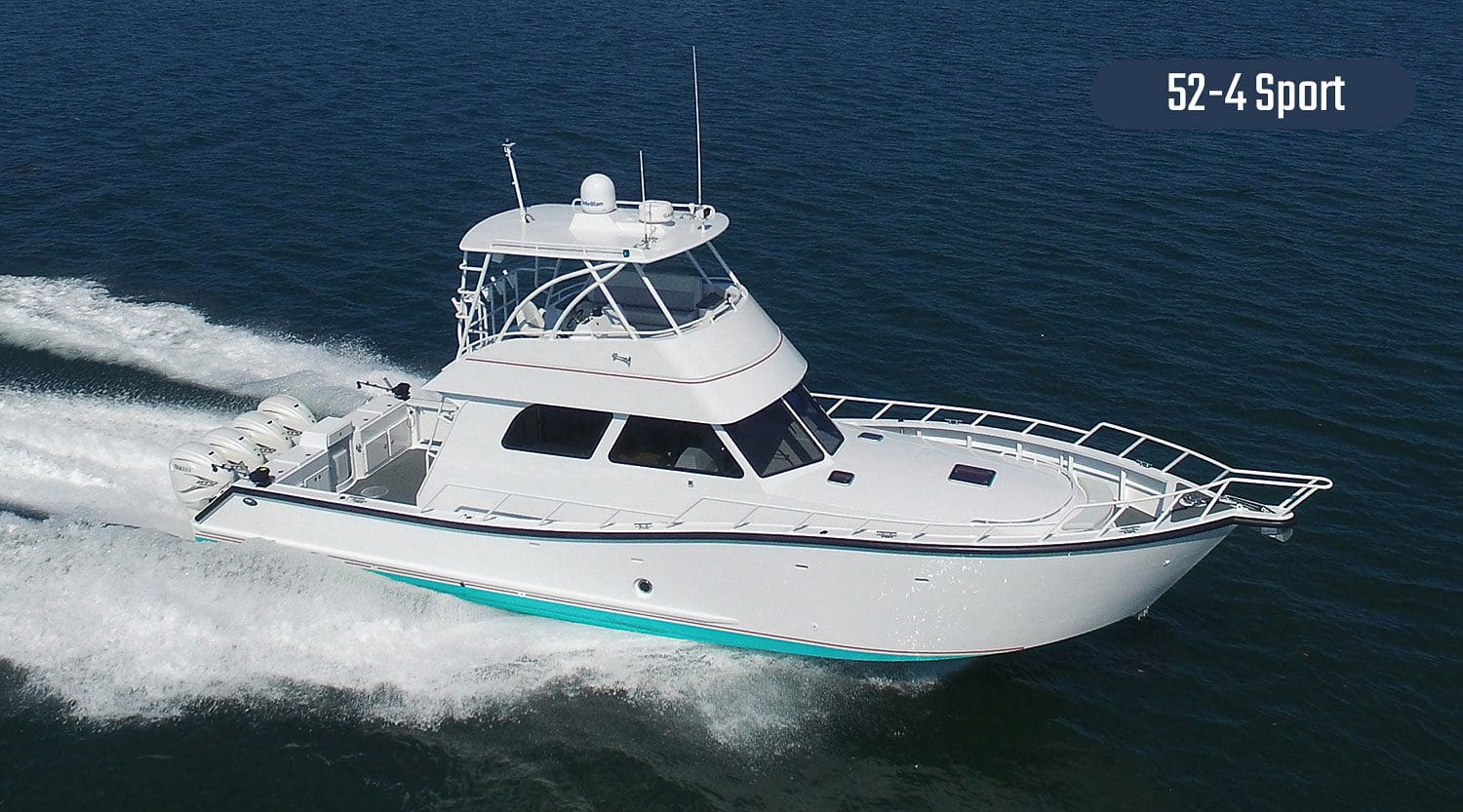 Model: 52-4 Sport
Miami, FL: This 52' Munson Sportfisher incorporates a 20 degree modified V hull and unique walk around cabin design with generous passageways around the perimeter of the vessel. The interior includes a forward stateroom, 2 bunk rooms, lower galley and head compartment. In the main salon there is a dinette to port and built in entertainment center to starboard. Corian countertops are installed throughout. The aft cockpit features fishing tackle storage drawers, bait tank, side boarding door, downriggers and flush mount rod holders. Electronics include dual Garmin 16" touchscreen displays, Fantom 18" solid state radar, Fusion Bluetooth stereo, and Intellian i4 sat TV system. Quad Yamaha 425's provide an impressive 40 knot top speed and comfortable 30 knot cruise.
Hull Length:
50 ft (15.2 m)
Length Overall:
56 ft (17 m)
Propulsion:
Outboard (Quad)
Speed:
48 mph, light ship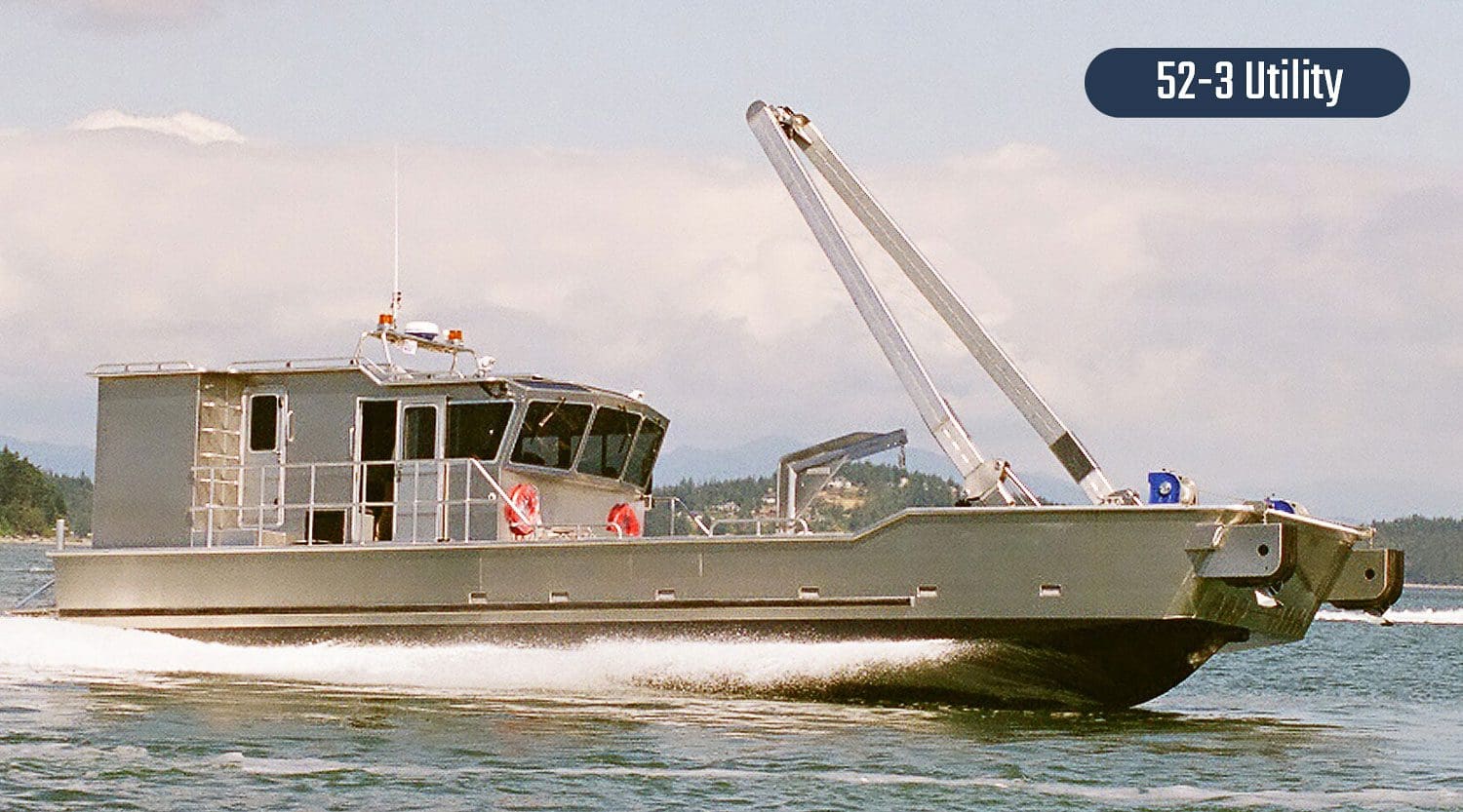 Model: 52-3 Utility
Oakland, CA: The State of California Department of Transportation uses this 52' workboat for maintaining & inspecting the 12 highway bridges in San Francisco Bay. The 25' tall hydraulically operated A-frame is designed to deploy and retrieve 3000 lb. pier fenders. Other outfitting includes dual hydraulic anchor winches, solar panels, aft work shop, welding machine, air compressor, diving equipment, and Delta T forced air engine room ventilation system.
Hull Length:
54 ft (16.5 m)
Propulsion:
Hamilton 403 water jet
Speed:
39 mph, light ship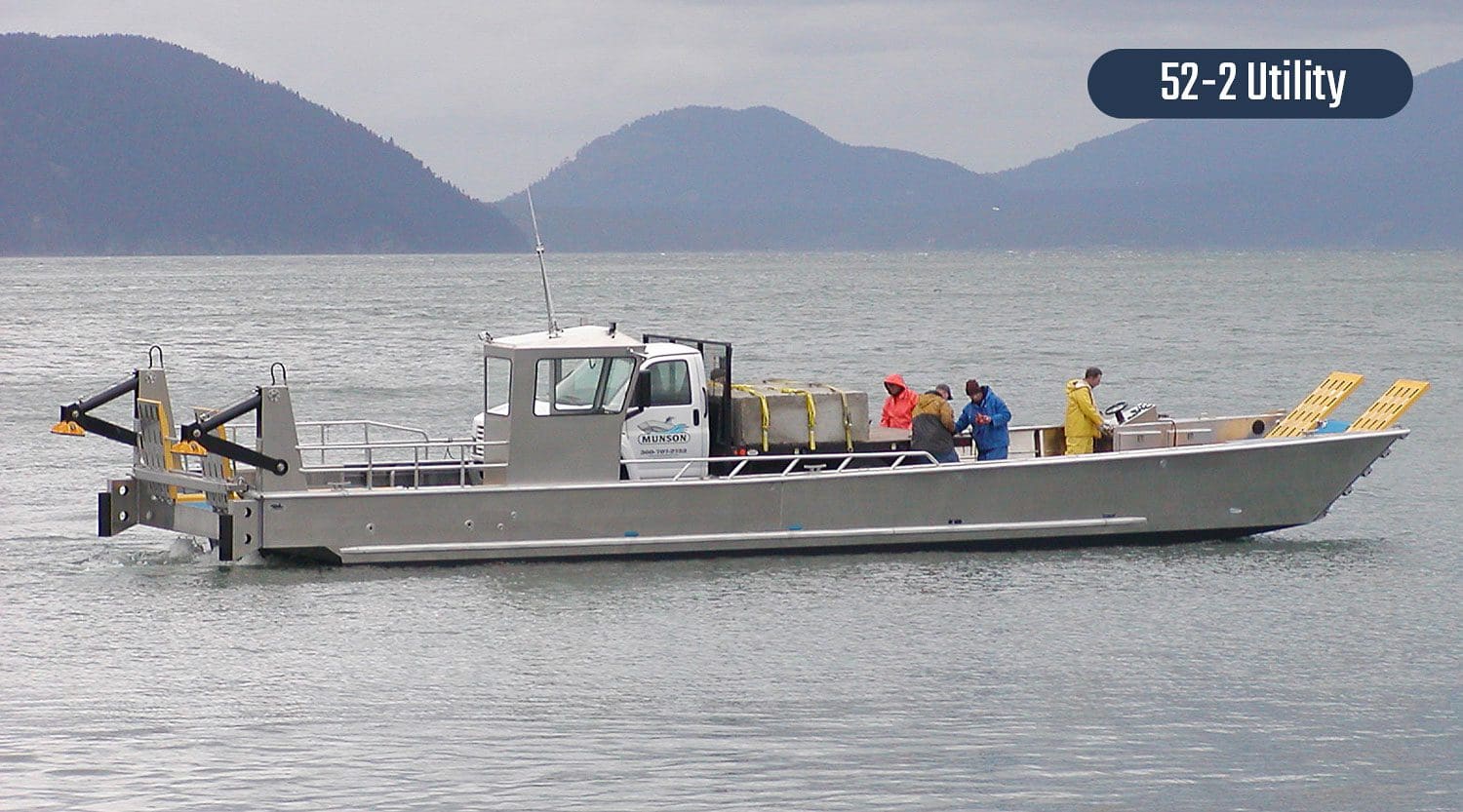 Model: 52-2 Utility
Lovango Island, USVI: The Lovango Homeowner's Association operates the M/V Jac as an island ferry between ST Thomas USVI and their island community. Hydraulic outriggers and a loading ramp are installed at the transom. This system allows for roll on/roll off loading of Association member vehicles and wheeled construction equipment. Special strengthening was incorporated into the cargo deck to accommodate a 30,000 lb. cement mixer.
Hull Length:
48 ft (14.6 m)
Power:
Volvo D6 310 hp x 3
Propulsion:
Volvo DP sterndrive
Speed:
25 mph, light ship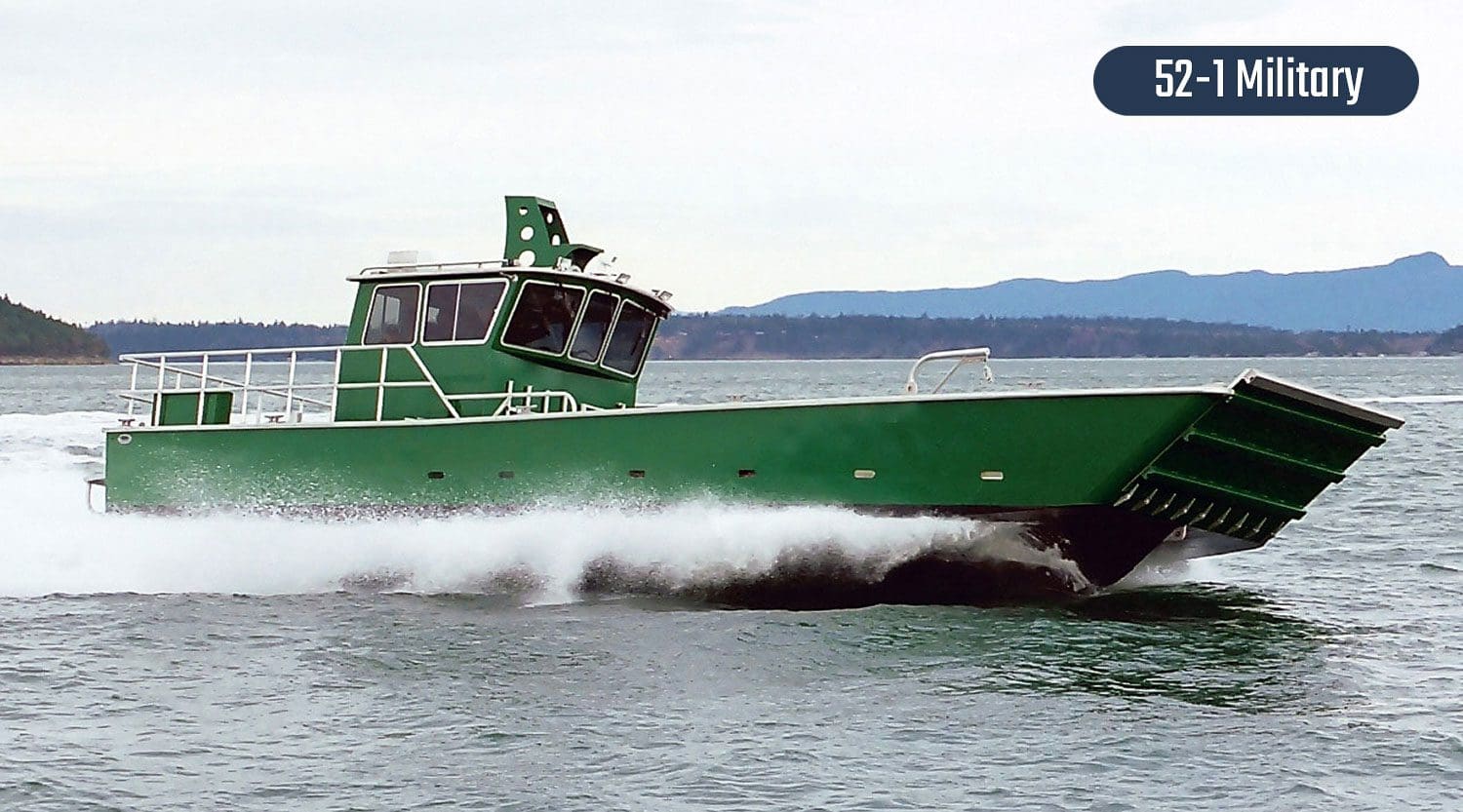 Model: 52-1 Military
Mediterranean Sea: This Special Forces transport craft is designed to pack 7 tons at 30 knots and built to ABS Classification. Primary duties include the transport of armored personnel carriers, troops, and gear. Outfitting includes a 26" side door an 8 Kw generator, tinted wheelhouse windows, dual wheelhouse air conditioners, bow and stern anchor windlasses and removable foredeck storage lockers.
Hull Length:
52 ft (15.8 m)
Power:
Caterpillar C12 660 HP x2
Propulsion:
Hamilton 364 water jet
Speed:
43 mph, light ship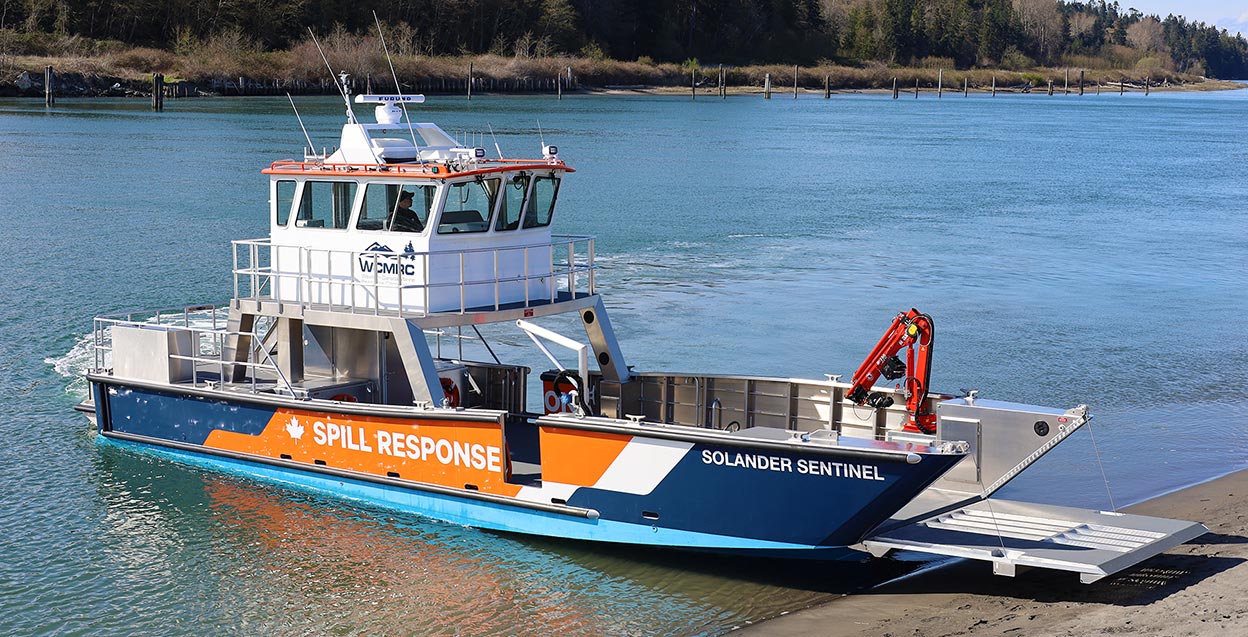 Our clients say it best…
"It's been a great experience working with you and your fabulous company on the WCMRC new builds. I've so enjoyed getting to know your workforce, who have earned my respect with their commitment to quality. Thank you for everything!"