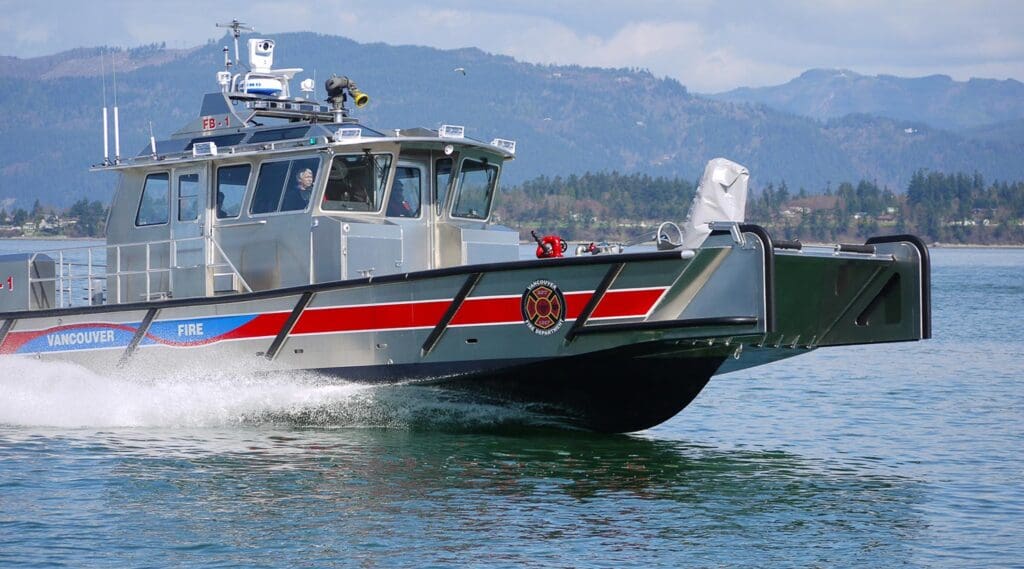 Give a wide berth
Our customers understand the raw beauty of a form-follows-function design that is overbuilt and impervious to abuse.  Each Munson 48 is a one-of-a-kind, purpose-built vessel that is engineered and built from the ground-up for your specific needs. If you are looking for the best workboat money can buy, then your search is over.
Whether putting out fires, booming oil, or moving large vehicles, quality equipment is of paramount importance to those who take their work on the water seriously. At Munson Boats, we understand this. We know that your boat is a vital piece equipment that can mean the difference between life and death. We build superior quality boats that are custom outfitted to be exactly what your specific needs demand.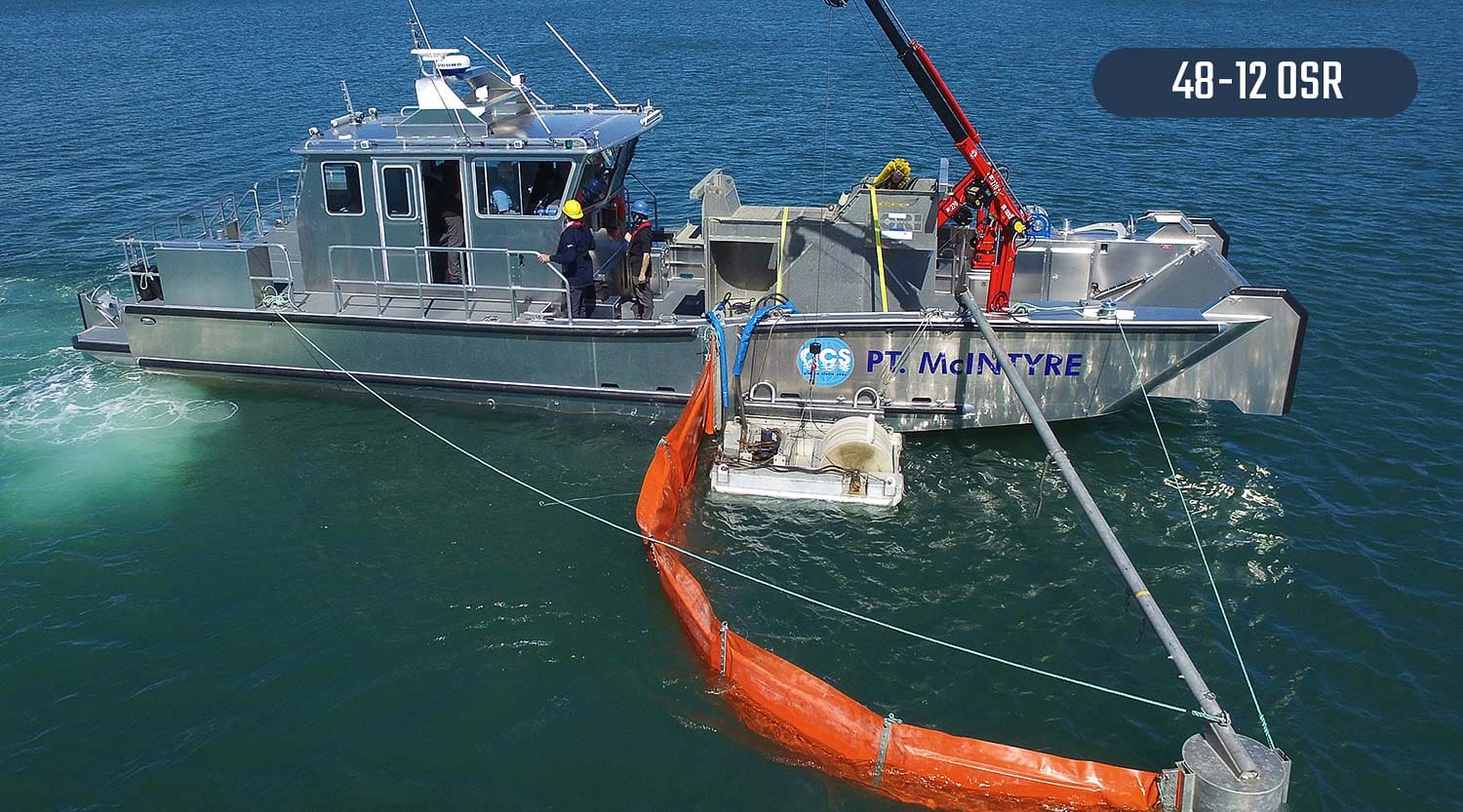 Model: 48-12 OSR
Prudhoe Bay, AK: Located 400 miles north of Fairbanks, on Alaska's north slope, Prudhoe bay is home to the largest oil field in North America. The 48' "Pt. McIntyre" is a purpose build oil spill response vessel designed to retrieve oil in the event of a spill in order minimize the environmental impact. Outfitting include keel cooling with dry exhaust for both the main engines and the generator, Glendenning's controls with joystick piloting system, a integrated hydraulic system rated for 100GPM @ 3700PSI, dual Maxilift hydraulic deck cranes, bow and stern hydraulic capstans, bow and stern hydraulic anchor winches, hydraulic quick disconnects for oil skimmers and a boom roller, as well as an enclosed wheelhouse with electric and heat exchanged main cabin heat.
Hull Length:
48 ft (14.6 m)
Power:
Volvo D13 800 hp x 2
Propulsion:
Hamilton 403 Water Jets
Speed:
39 mph, light ship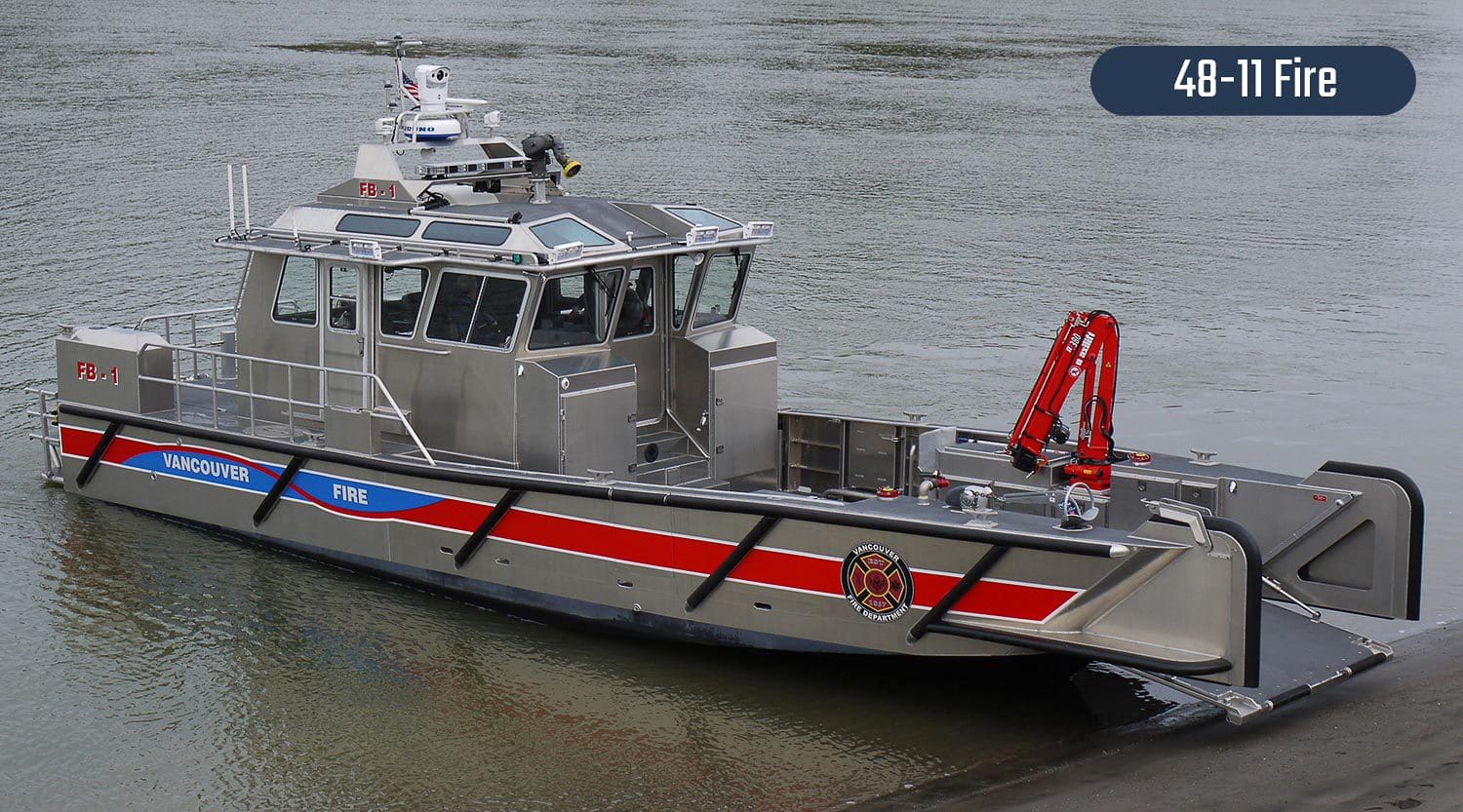 Model: 48-11 Fire
Vancouver, WA: Extending along the shore of the Columbia River, the City of Vancouver lies directly across the river from Portland, OR and is the southern gateway to the State of Washington. Their new Type IV Fire Emergency Response Vessel is outfitted with a Hale 80FCG 2500 GPM fire pump with two bow monitors, Scorpion EXM rooftop monitor and 8 fire hose hydrants. The walk around cabin includes HVAC, sky view windows, work stations, storage cabinets, refrigerator and aft head compartment. Electronics include three Furuno TZ14 multifunction displays with 36 mile radar, black box sounder, AIS, Flir Voyager III infrared camera, 200W siren, VHF and 800mhz radios, and six wireless headsets.
Hull Length:
46 ft (14 m)
Power:
Scania Di13 750 HP x2
Propulsion:
Hamilton 364 water jet
Speed:
37 mph, light ship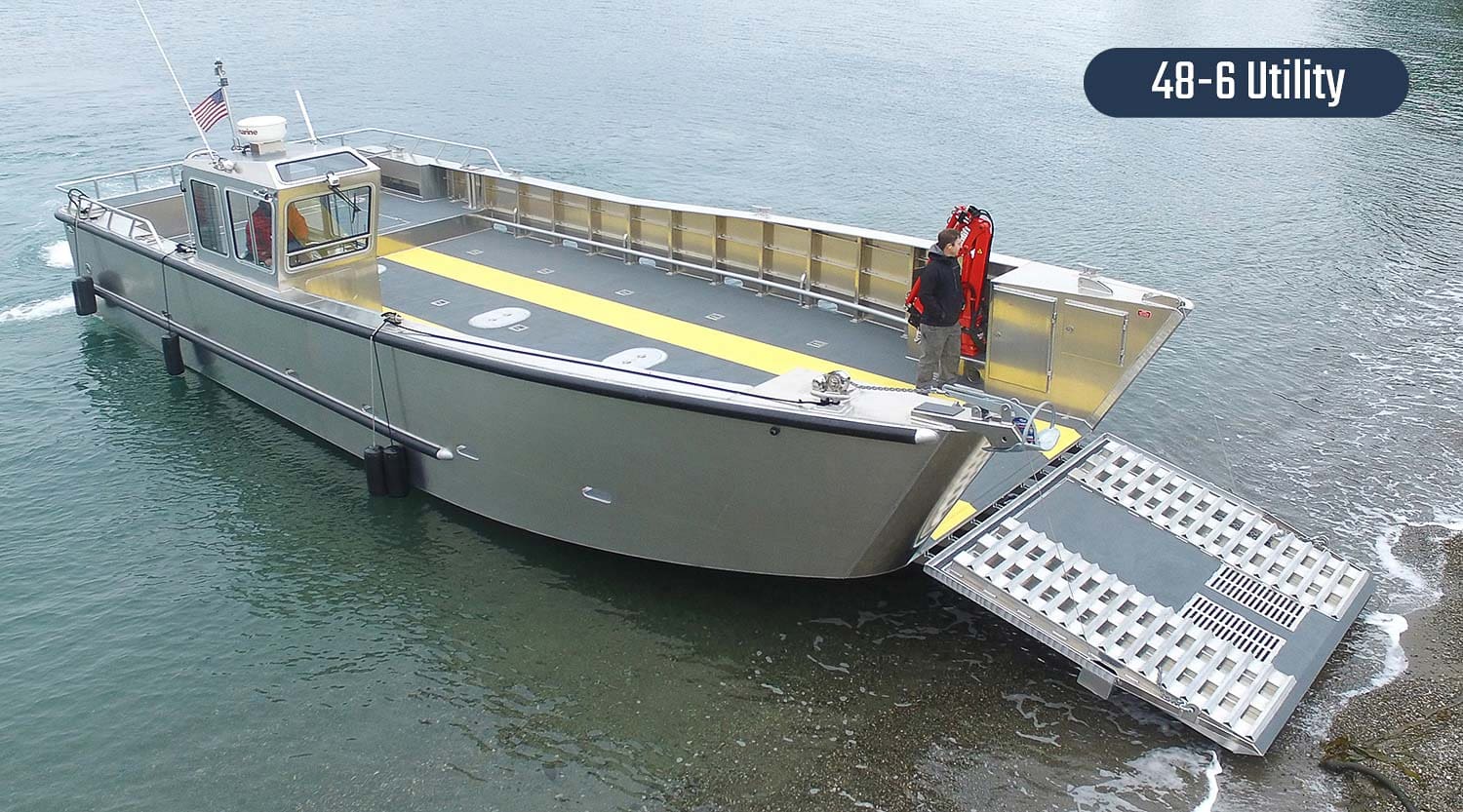 Model: 48-6 Utility
Lake Superior, WI: The Apostle Islands National Lakeshore consists of 21 islands and are considered the jewels of Lake Superior. The National Park Service uses their 48' Munson landing craft to service these remote islands, transporting vehicles, materials and heavy equipment weighing up to 30,000 lbs. Outfitting includes 16 heavy duty tie down pockets on the main deck, bow & stern anchoring systems, Raymarine radar/plotter/sounder, and Maxilift 270.3 telescoping deck crane.
Hull Length:
48 ft (14.6 m)
Propulsion:
Hamilton 322 water jet
Speed:
31 mph, light ship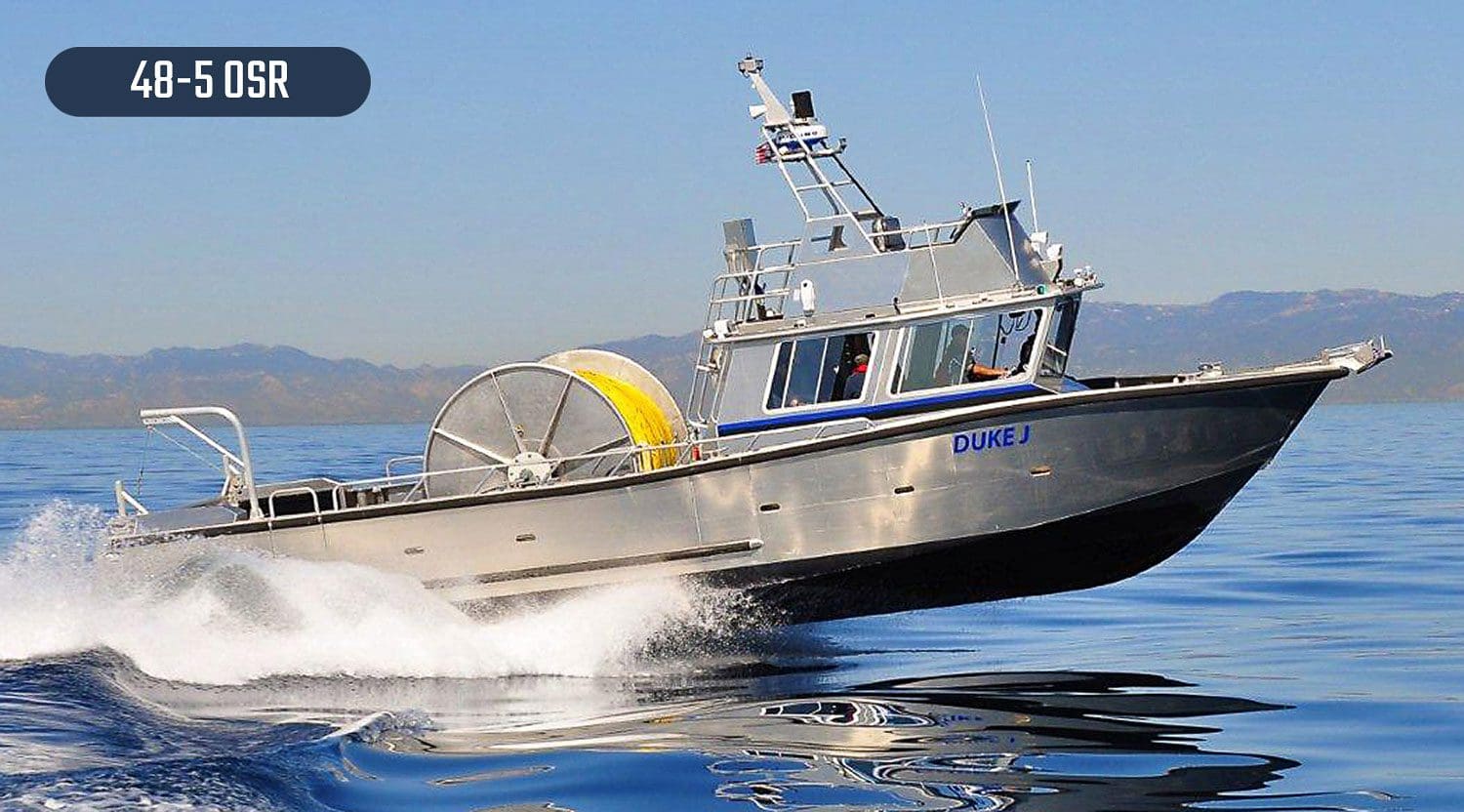 Model: 48-5 OSR
El Segundo, CA: The Chevron El Segundo Refinery is the largest refinery on the West Coast. With such a close proximity to beaches and wildlife they are committed to environmental protection and responsibility. The M/V Duke J is deployed as part of their incident response program. A hydraulic boom reel on the aft deck is used to deploy and retrieve 1200 feet of offshore containment boom. Hydraulic controls on wheelhouse flybridge provide the boom operator an unobstructed view of the aft deck.
Hull Length:
48 ft (14.6 m)
Power:
Cummins QSM11 610 HP x2
Propulsion:
Hamilton 364 water jet
Speed:
36 mph, light ship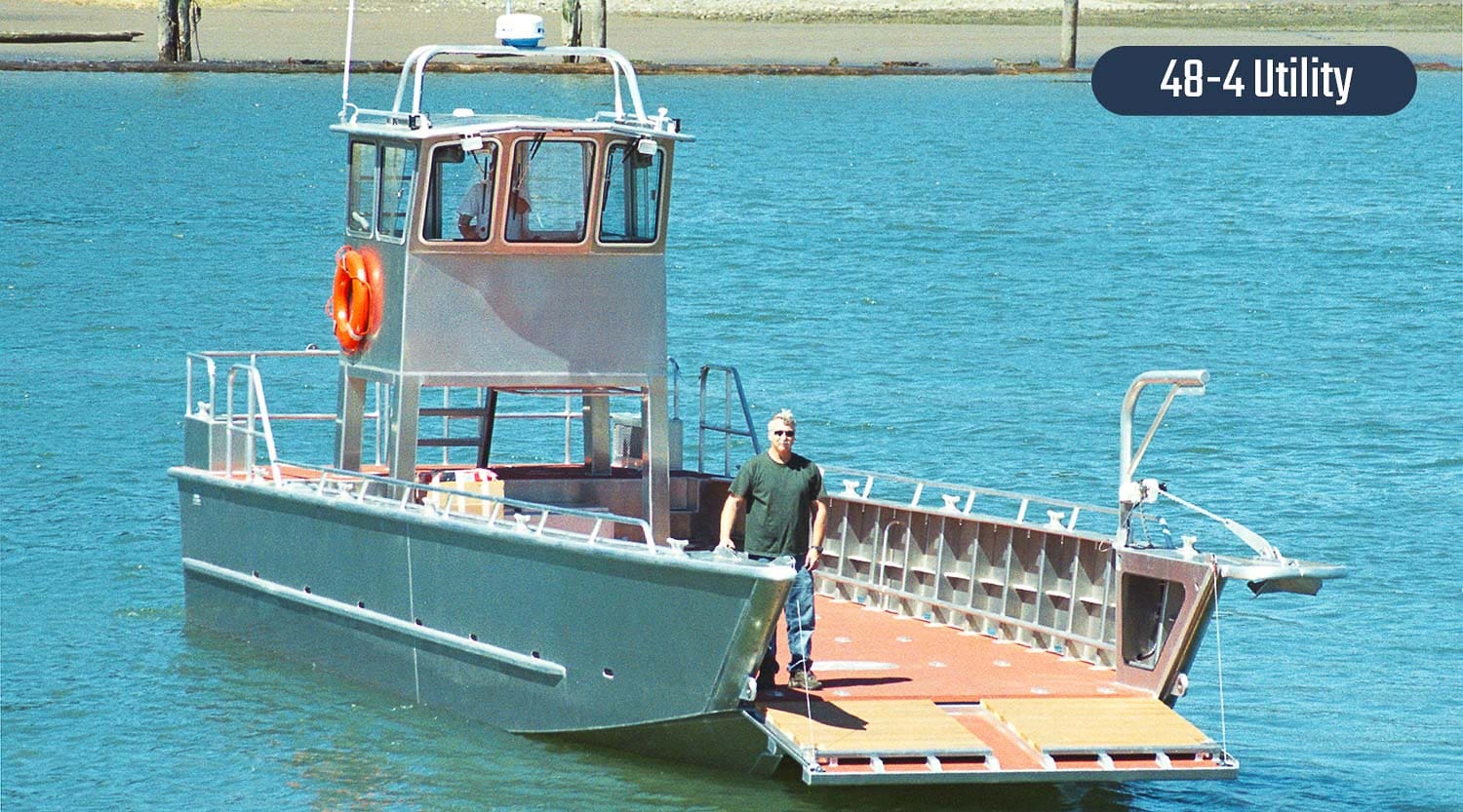 Model: 48-4 Utility
Dutch Harbor, AK: The Nikolski Fisherman's Association operates this Munson as a cargo and passenger transporter 120 miles between Dutch Harbor and Nikolski, AK. Primary duties include the transport of a 23,000 lb. 22' shipping container and passenger transport when weather conditions prohibit flying. Outfitting includes a raised pilothouse to provide visability over cargo, diesel cabin heat and removable deck rollers for loading and unloading shipping containers
Hull Length:
48 ft (14.6 m)
Power:
Mercruiser 270 HP x 2
Propulsion:
Bravo 2 sterndrives
Speed:
33 mph, light ship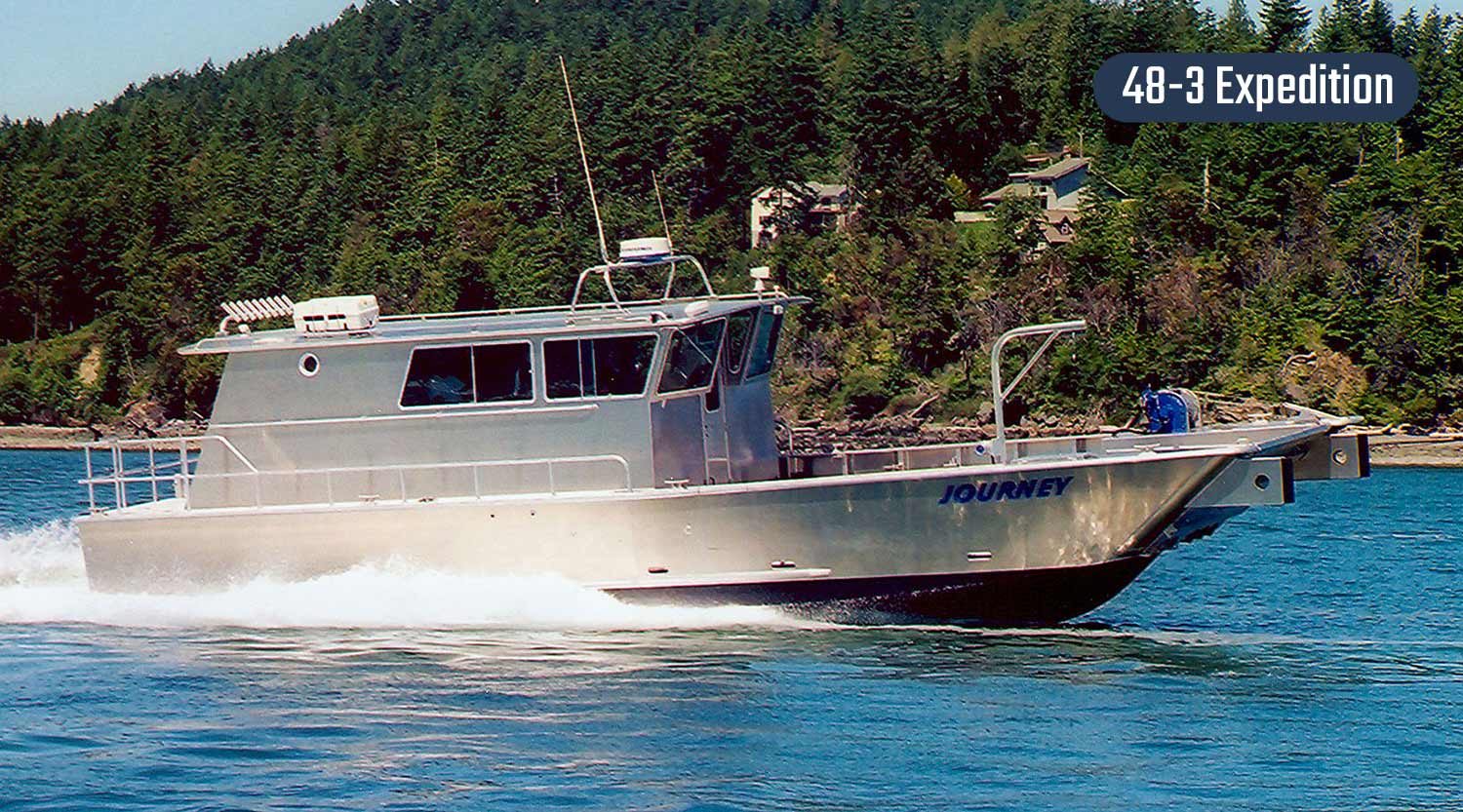 Model: 48-3 Expedition
Valdez, AK: The M/V Journey is a family excursion vessel operating within Prince William Sound, AK. Boat is designed for 6 pack charters and private family recreation with overnight berthing and accommodations for 8 persons. Outfitting includes a Kinematics anchor capstan, 5Kw generator, flushing head, and diesel cabin heat. A U-shaped galley contains a propane oven and cooktop, Norcold refrigerator, and a double sink
Hull Length:
48 ft (14.6 m)
Power:
Cummins 660 HP x 2
Propulsion:
Hamilton 362 Water jet
Speed:
42 mph, light ship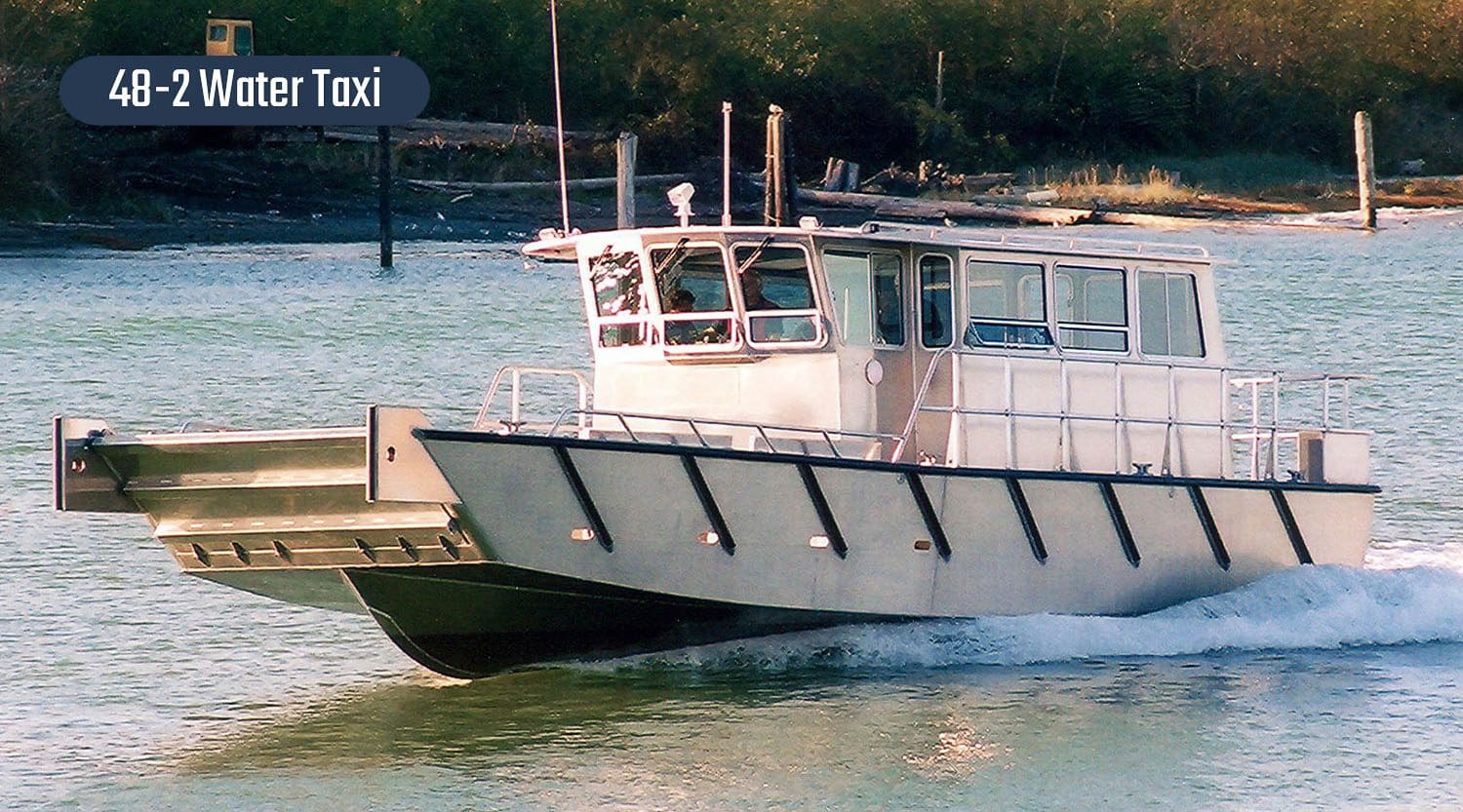 Model: 48-2 Water Taxi
Lake Gantun, Panama: The Smithsonian Tropical Research Institute operates this 48' Munson as a passenger trasnport between Gamboa and Barro Colorado island. The M/V Morpho is outfitted with an enclosed head compartment and seating for 30 passengers. A removable passenger pod located on the foredeck provides additional interior seating during the rainy season
Hull Length:
48 ft (14.6 m)
Propulsion:
Konrad 520 Sterndrives
Speed:
36 mph, light ship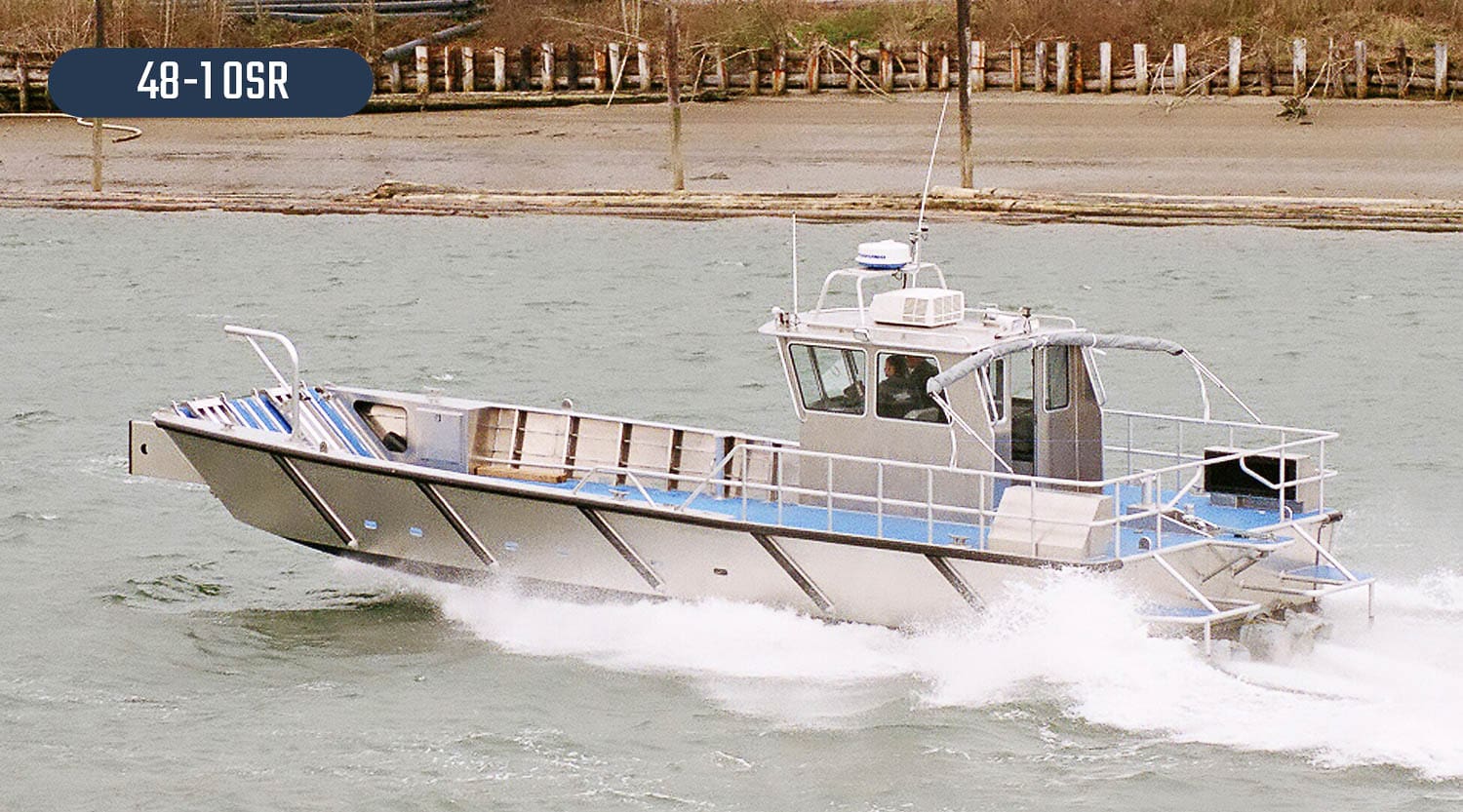 Model: 48-1 OSR
Cabinda, Angola, West Africa: Chevron-Cabinda Gulf Oil Company is currently developing the Mafumeira Sul exploration project 15 miles (24 km) offshore Cabinda, Angola. The extremely remote location of the exploration presents special challenges to the project's OSR fleet. Simple, reliable, and easy to repair systems including a Fireboy automatic fire suppression system were selected to prevent the vessel and crew from becoming stranded in dangerous conditions.
Hull Length:
48 ft (14.6 m)
Power:
Volvo D9 425 HP x2
Propulsion:
Hamilton 322 Water jet
Speed:
36 mph, light ship