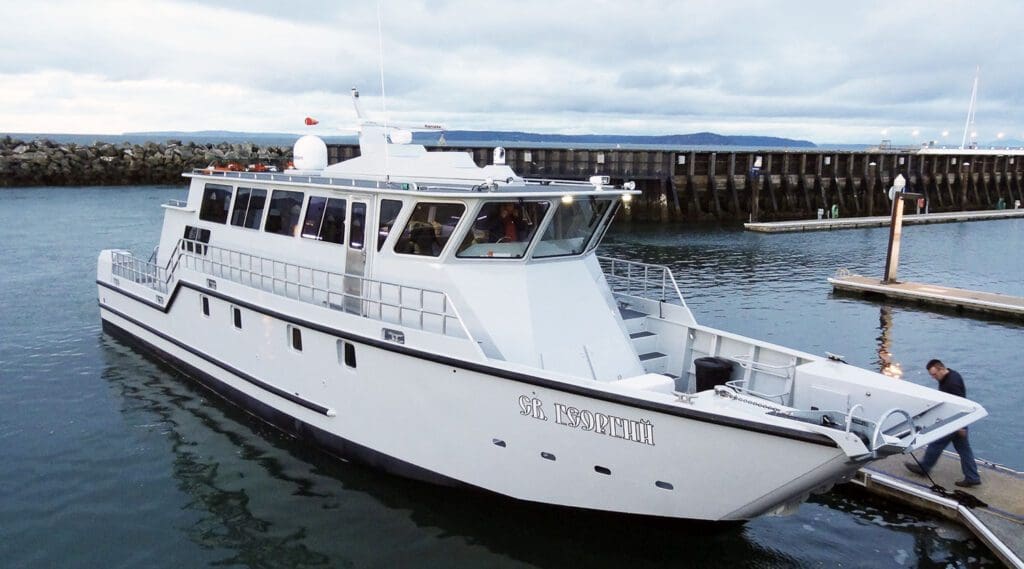 It's a workhorse and a thoroughbred
The term Workhorse refers to a particular type of horse that was bred to haul heavy loads all day long without tiring. On the other end of the spectrum is the Thoroughbred. The Thoroughbred was bred to race. It can reach levels of performance that other horses simply cannot. A Munson 65 is both of those things. She can carry huge loads without a problem. At the same time, the offshore-capable Munson 65 is a very high-performance boat.
Munson 65' Series is designed for ocean transport and moving payloads of up to 20 tons. Waves never get tired, and neither does a Munson 65. There's plenty of space for equipment & provisioning, large fuel tanks for extended range, while still keeping a low draft for beaching and sharp bow entry for navigating heavy seas. Whether you're shopping for an expedition vessel or simply expediting cargo, a Munson 65 can handle the job… especially if you need a thoroughbred, a workhorse, or a combination of both.
Our clients say it best…
"I'm pleased to inform you that Yuri in accompany of his comrades has finally enjoyed his first long distance boat trip from St. Petersburg to his Moscow home ship parking station"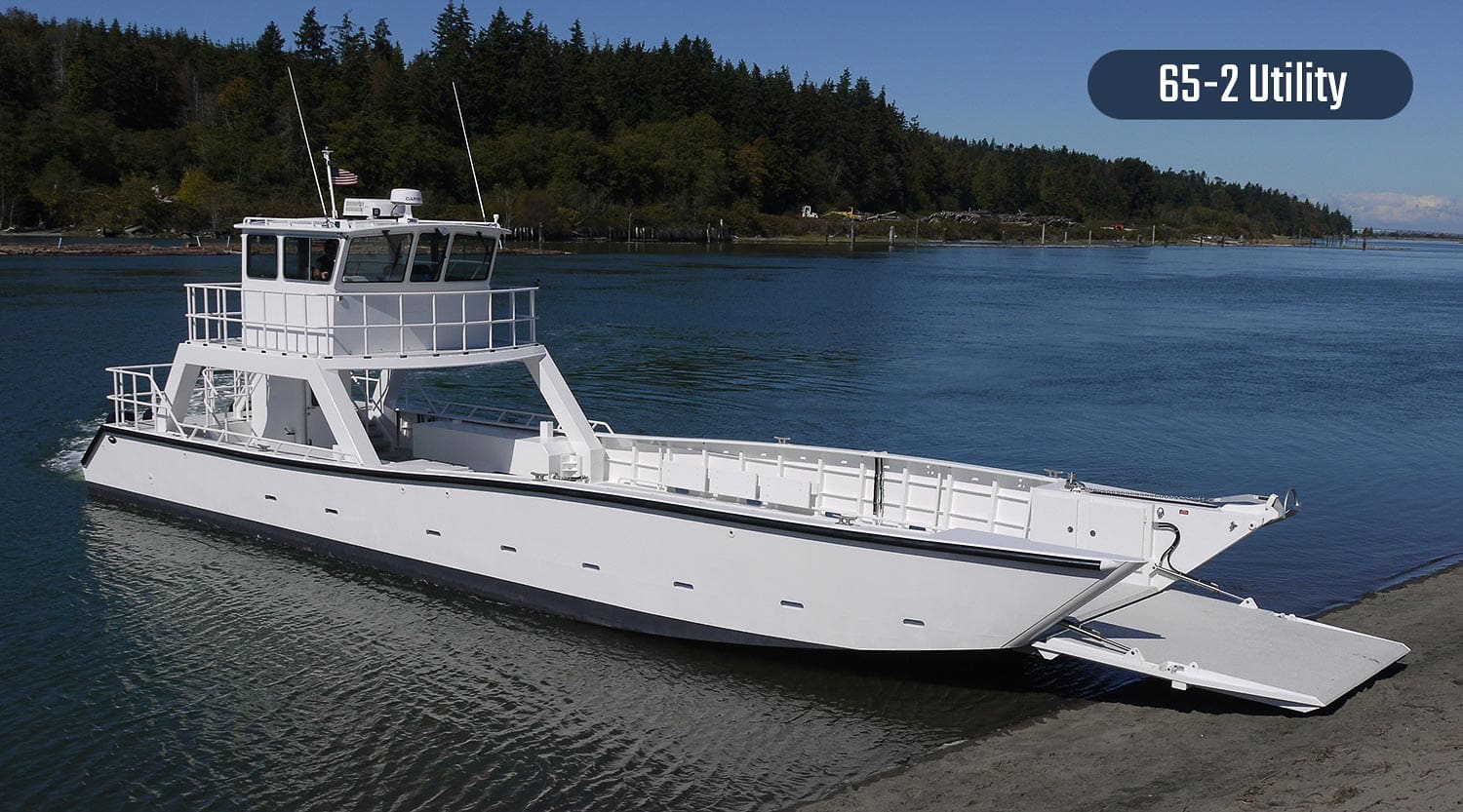 Model: 65-2 Utility
Dubai, UAE: Dubai is a global city and business hub of the Middle East. It is also a major global transport hub for passengers and cargo. This 65' Munson is the second for this customer and was designed to transport heavy equipment, fuel and crew to develop Palm Jebel Ali near Dubai. Along with its 45,000-pound payload, outfitting includes quad Mercury 350 Verado outboards, 4 auxiliary tanks for up to 3,000 gallons of diesel fuel, flip up locking deck seats port and starboard for 12 people, head, and hydraulic extended bow door. Deck space to transport heavy equipment is maximized by the elevated, air-conditioned superstructure which has seating for 8 and includes a 360-degree exterior breezeway. Bow and stern thrusters are included for enhanced maneuverability
Hull Length:
65 ft (19.8 m)
Power:
Mercury Verado 350 hp x4
Speed:
39 mph, light ship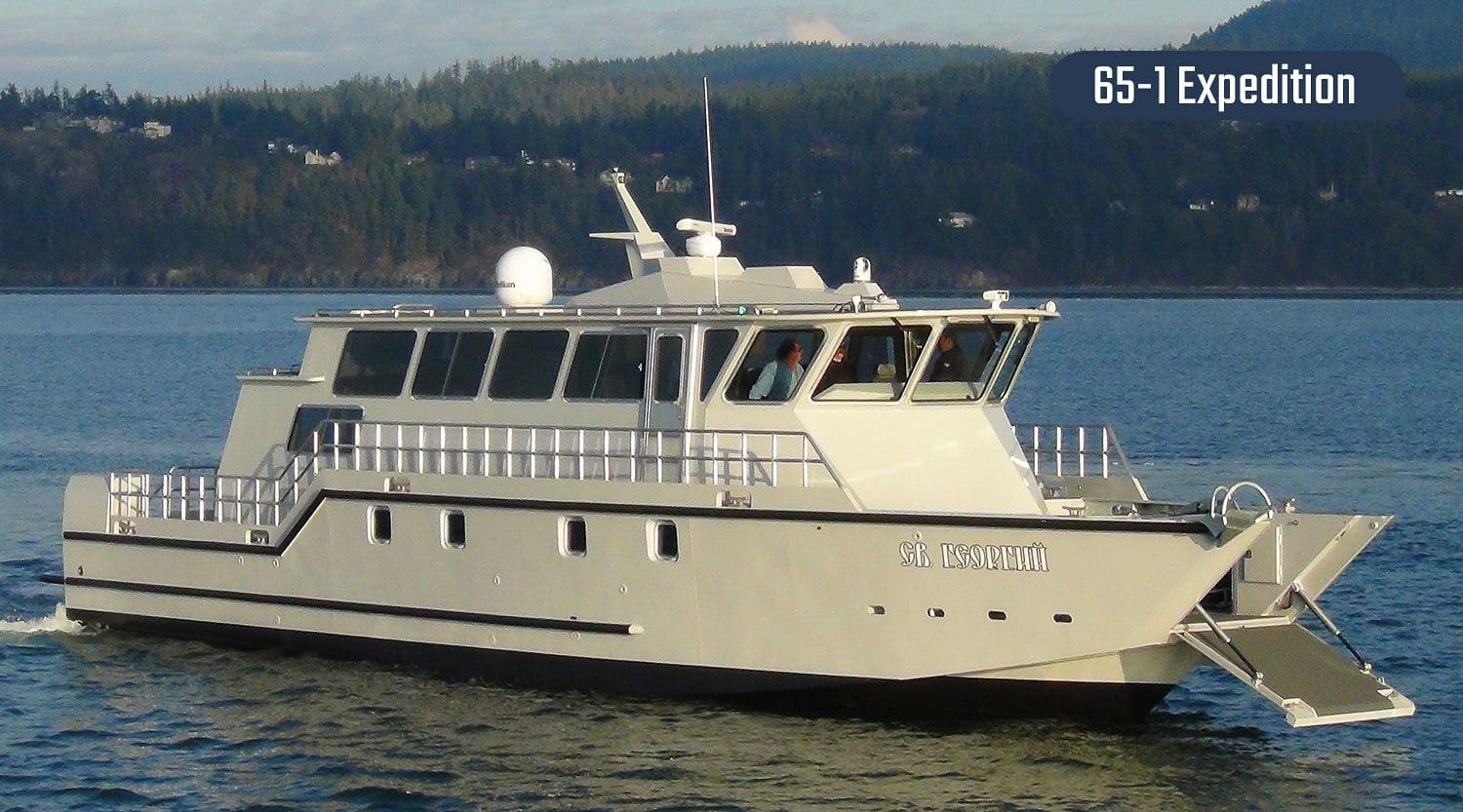 Model: 65-1 Expedition
St. Petersburg, Russia: Munson Boats is proud to introduce the Landing Craft Expedition 65, flagship of the Expedition Series. Constructed to comply with European Design Category B "Offshore" -Beaufort force 8 winds and associated wave heights of up to 4m, the Landing Craft Expedition combines the uncompromising construction practices of her smaller cousins with the interior fit and finish of a luxury motor yacht.
Performance: It was important to us that the LCE retained all of the rough water performance and serious high speed that Munson Boats are known for. With that in mind twin MAN CRM1550 turbo diesels mated to Hamilton 521 Jet drives were chosen. The LCE is capable of 48 mph and a comfortable cruising speed of 22 mph. Extensive insulation and sound deadening techniques were employed to make sure that the LCE remains comfortable and quiet, even at 42 knots.
Accommodations: Designed for long distance cruising and entertaining the main salon features a large galley with high end appliances and Corian countertops and dishwasher. The large main dining area features wrap around seating and offers great visibility for passengers while underway. The lower deck is home to four staterooms. Twin owner's staterooms are located aft and offer queen berths and large closets. Forward staterooms located on each side of the main passageway feature three bunk beds and hanging lockers. Two identical head compartments feature spacious walk-in showers, double sinks and marine heads.
Hull Length:
65 ft (19.8 m)
Power:
MAN V12 1550 HP x2
Propulsion:
Hamilton Jet HM521 x2
Speed:
48 mph, light ship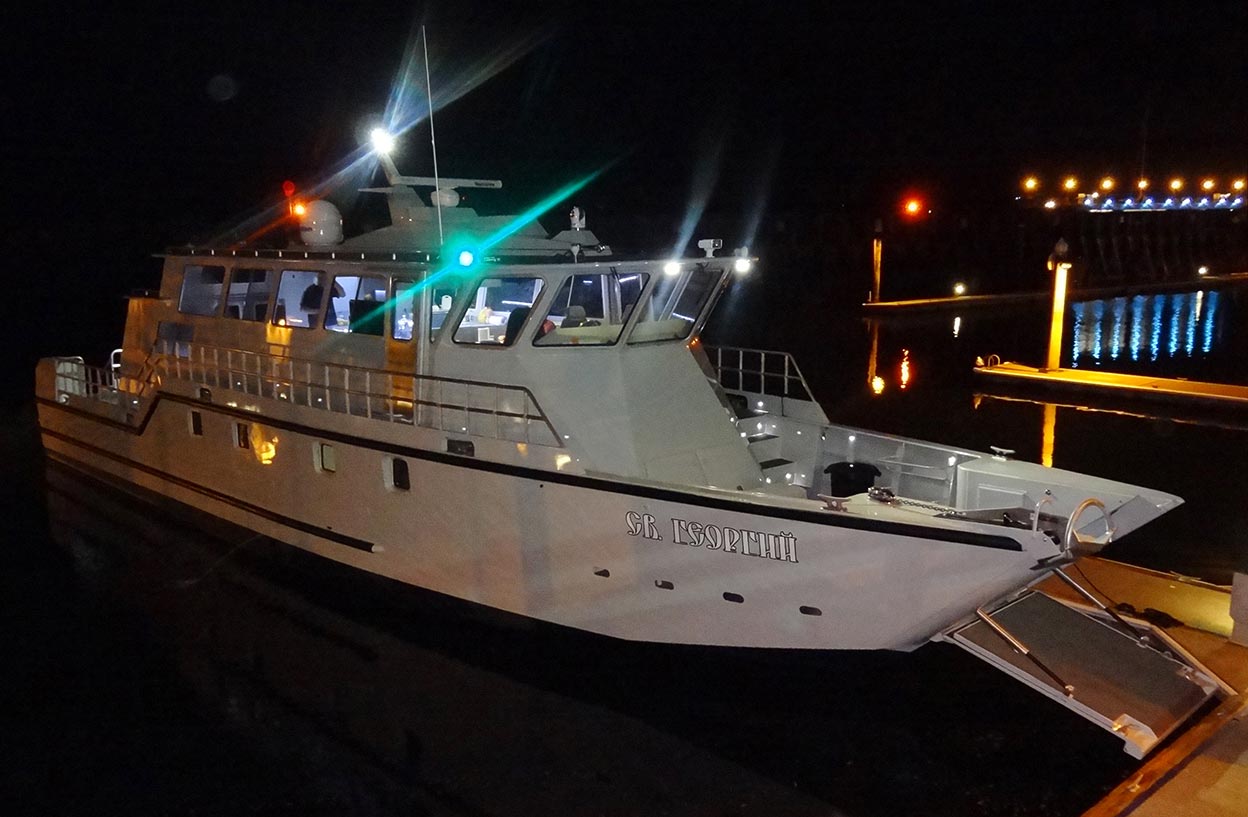 Our clients say it best…
"I'm pleased to inform you that Yuri in accompany of his comrades has finally enjoyed his first long distance boat trip from St. Petersburg to his Moscow home ship parking station. That trip happened last week and took them five days exploring a lake-river shape distance covering over a thousand miles within Russia's Northwest and Central inland territory. Upon coming back home, Yuri seems to be quite enthused and satisfied with his new Munson boat. He has suggested me to convey to both of you hello from him along with words of appreciation for the excellent job you've done."